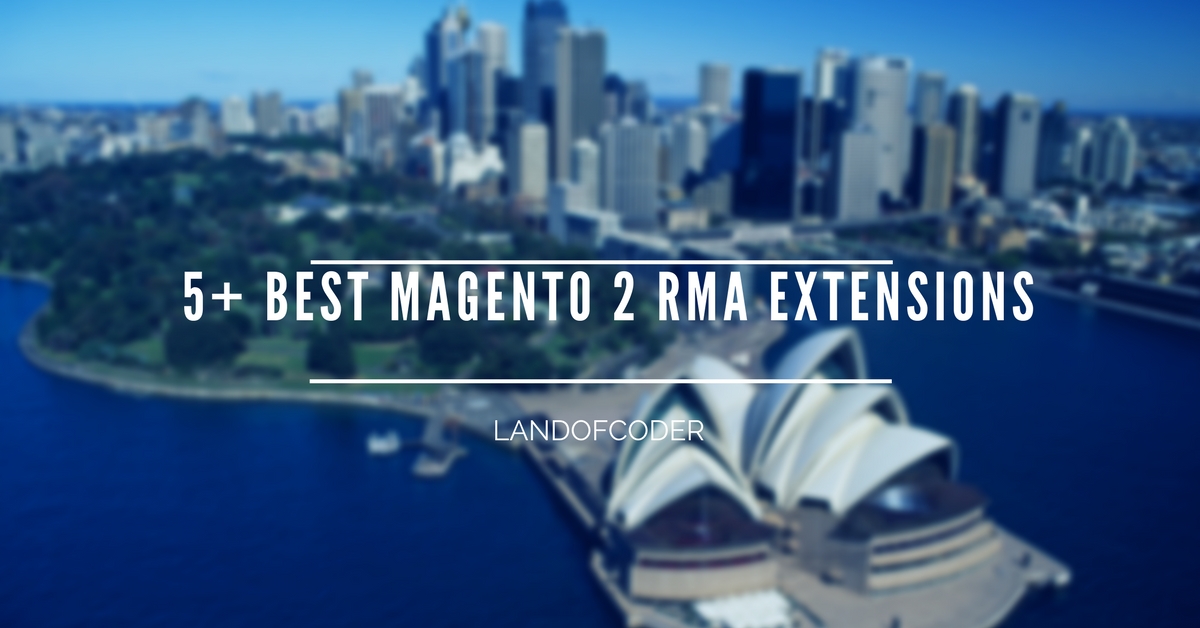 Are you looking for an optimal solution to your RMA procedure?
This collection will offer you 5 Best Magento 2 RMA Extension to make your RMA system well-organized and effective. Based on a range of criteria, the comparision may help you make a precise and reasonable decision.
Provider
Rating & Review
Description
Highlight Features
Demo
Price
Details
 Landofcoder
 updating
Magneto 2 LOF RMA is one-stop solution for a simplified and productive RMA procedure and customer satisfaction. A bundle of RMA tools are integrated to reduce time and effort on product return service. Attracting customers and keep them coming back. RMA is very important when it comes to purchasing decision. Online customers can't feel your product in person, so offering return options is like building trust and wiping out their anxiety while buying products.

Highly Controllable Return Merchandise Authorization System
Create RMA request via intuitive and responsive submission form
Dynamic and User-friendly Custom Fields
Guest orders can be also entered for an RMA request
Smart RMA Report Chart with Filter
Quick messaging
Instant RMA Activity Notification
Unlimited and Customizable Reason, Condition, Resolution Setting
Handy Packing Slip, Shipping Label, and Confirm Shipping Buttons
Fast Access To All Submitted RMA Request From Single Place
Effortlessly Managing Quick Responses
Speeding up RMA Process with Workflow Rules
Flexibly Selecting Return Items
Easy to configure
Multistore Support
Easy to insert return address

Frontend
 $99
Detail
 Aheadworks
 5-5 reviews

Request status: Each RMA step is marked by a status change, optional notifications are sent to customer, administrator, or both
Custom fields Screen: Custom fields may be added to request creation form, covering information that is specific to a business/products
General settings: Screen Extension includes options to allow guest requests, specify the return period, and insert info blocks at various stages of request submission
RMA grid Screen: All requests are stored in one grid that has various filtering options and navigation shortcuts for narrowing the selection
Responsive design NEW!: RMA request form borders are automatically adjusted to any browsing device
Request management area: Within each request there is a number of tabs designated to request, order, and customer information
Message thread Screen: Direct customer-to-administrator communication area is included in each RMA request tab and allows for both text messages (chat) and file attachments
User interface for customers Screen: Intuitive process of RMA request creation and status monitoring
User interface for administrator: Straightforward workflow, from request filtering to managing each step of individual requests
RMA auto-approval NEW! Save time by approving all incoming RMA requests

Frontend
 $297
 Detail
 Mirasvit
 4.9-57 reviews
Return Merchandise Authorization (RMA) is a powerful tool for managing returns and/or exchanges of goods. This extension is important if you wish to build strong relationships with your store customers and win their trust and loyalty.

Magento 2 RMA Extension has an intuitive, step-by-step user interface which allows your online store clients to create return/exchange requests quickly and easily. Also, this extension lets you create backend requests through the administration interface.

Our RMA solution is suitable for any business model and easily integrated into any business process.

Flexible Configuration
Clear and Fast Communication with Workflow Rules
Custom Email Notifications
Shipping Labels
Easy RMA discussion
Manage Reasons, Condition and Resolutions for customers' RMA
Quick Responses
Powerful Reports
Custom Fields

Frontend
 $119
 Detail
 Amasty
 5-2 reviews
Merchants do their utmost to provide decent customer service; though a great service doesn't end when an item is purchased and delivered to a consumer. The quality of customer service is truly tested when it comes to returns management. Magento 2 RMA extension is aimed to help you effectively deal with all stages of RMA process. Configure Magento 2 RMA module settings to perfectly suit your business model as well as your customers' needs.

Enable RMA for all types of products
Create unique statuses
Allow guest RMA requests
Set up RMA notifications
Admin users can create and edit RMA requests from the backend
100% Open Source
Easy To Customize
Follows Magento Code Architecture
Separated HTML/CSS/JS
Simple installation via Composer

 Demo
 $249
 Detail
 Webkul
 5-1 review
Magento 2 Product Return RMA allows the store owner to integrate RMA system for its customers so that they can create a request for product return. RMA is very useful for product return/refund/exchange/order cancellation. With the help of this module, any customer can return the products, have them exchanged or refunded within the admin specified time limit.

Send and receive file attachments with the messages.
Create customizable fields for the RMA Request Form.
Guest Customers can generate RMA too.
Buyer and Admin can communicate using RMA system.
RMA History with Filters and Pagination.
Show Return Policy Page to customers.
Dynamic order selection with various option.
Print RMA details and shipping label easily.
The customer can also enter consignment number and upload images after RMA generation.
The admin can manage RMA status as well as Reasons.
The customer and the admin receive notification emails.
Using Return Quantity, the admin will return RMA quantity to their store.
The admin can select the allowed product types for RMA.

 Demo
 $49
Detail
These information is edited by Landofcoder Magento Experts. It will be very helpful for you to get The Best Magento 2 RMA Extension for your site.
  SOME OTHER EXTENSIONS YOU MAYBE INTERESTED IN
Related Posts