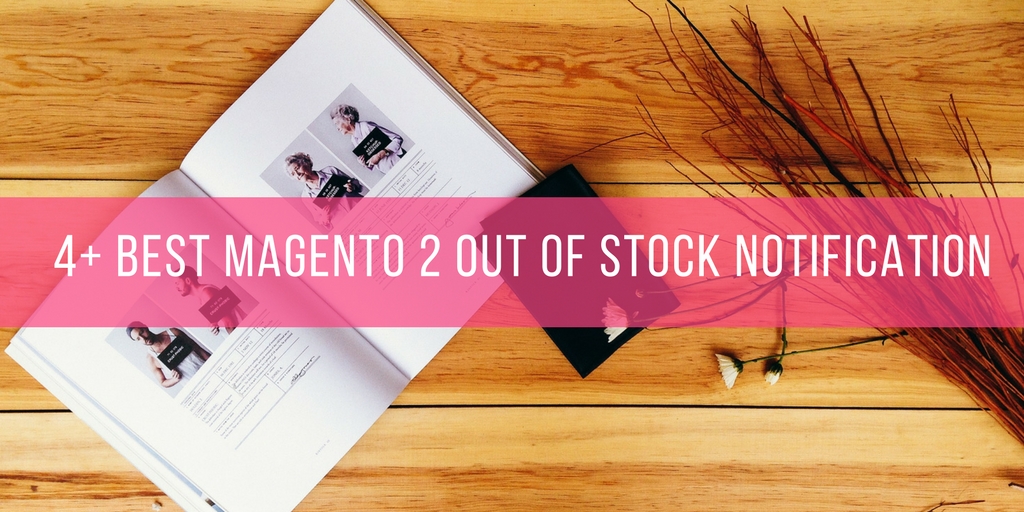 Today we would like to introduce a collection of 5+ best Magento 2 out of stock notification 2018 collected from hundreds of out of stock extensions in the market.
In this collection we bring you a full overview of 5+ best Magento 2 Product Updates Notifications including provider, review and rating, highlight features, description, demo, price and details. These information are collected by Landofcoder Magento Experts manually. It will be very helpful for you to choose the best Magento 2 out of stock alert for your online store.
These magento 2 Out Of Stock Notification are ranked based on below criteria
Customer's Rating review
Our experiences on product demo
The price, features
Social Popularity: Facebook, Twitter, Linkedin, Google+
Google Ranking
Compatibility
Provider credibility
Detail Magento 2 Out of Stock Extensions 2018
1. Magento 2 Out of Stock Notification Extension by Landofcoder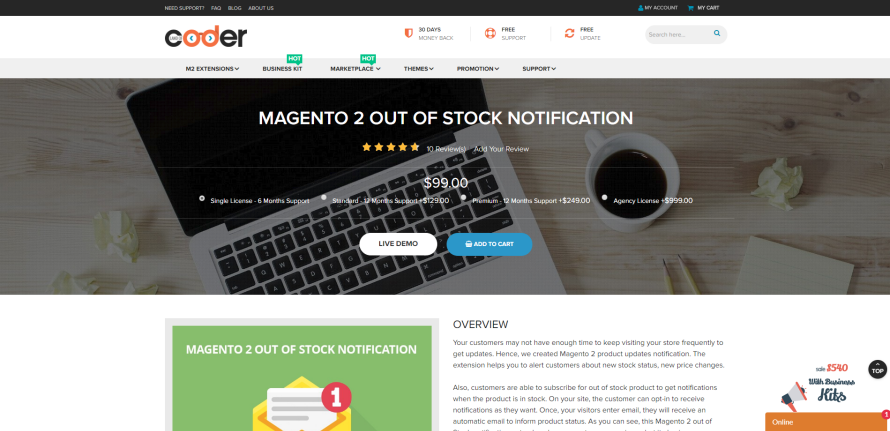 In order to save time & cost for customers to get update of your products on your store, specially with out of stock products, we created Magento 2 Out of Stock Notification to send customers notice about product status.
The extension helps you to alert customers about new stock status, new price changes.
Moreover, for any out of stock product, customers can subscribe to get notification when product is in stock. Once, your visitors enter email, they will receive an automatic email to inform product status. As you can see, this Magento 2 Product Notification not only enhances customer experience but it also increase visitor loyalty on your store. On your site, the customer can opt-in to receive notifications as they want. It becomes the great solution for your store.
Highlight Features:
Customer can subscribe notification for: Out of Stock Product, Sale Off Product, Change Price Product, New Product
Notify customers by product( product stock status, price changes), category(add new product)
Notify By Email Automatically or Manually
Customizable Email Template
Subscribe specific products or group of products
Manage the list of subscribes easily
Display stock alert in a popup or on a page
Display notification any page
Choose to subscribe or unsubscribe with ease
Show Advanced Report: Out of Stock Product Subscription
All Product Types Supported
[Coming] Subscribe category notify new products in the category
Fast speed with Magento Block Caching
Compatible with Magento 2.3.x
2. Magento 2 Product Alert Extension by Mconnect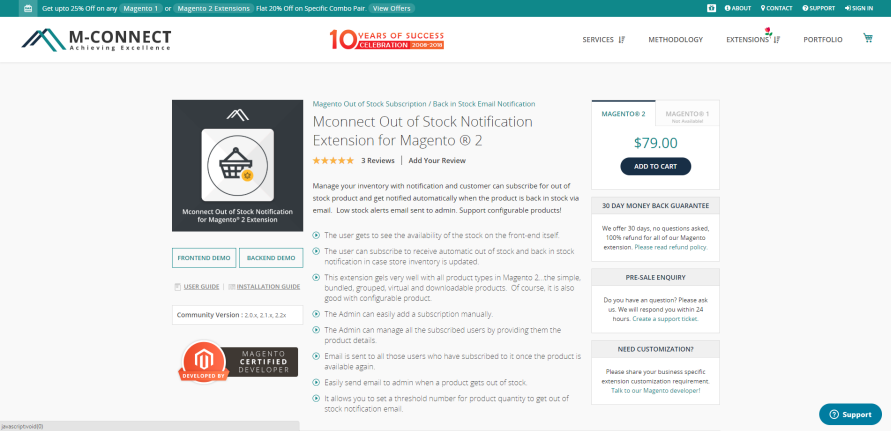 This Magento 2 Out of Stock Alert Extension allows to manage your inventory with notification and customer can subscribe for out of stock product and get notified automatically when the product is back in stock via email.  When product is low-in-stock, admin is able to get alert email to notify that. Fully configuration on products.
3. Magento 2 Out of Stock Notification Extension by Amasty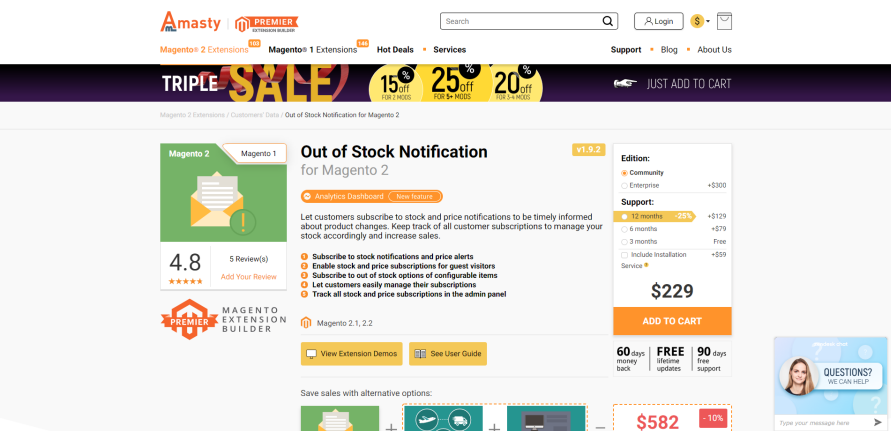 This out of stock notification extension lets customers subscribe to stock and price notifications to be timely informed about product changes. Keep track of all customer subscriptions to manage your stock accordingly and increase sales.
4. Magento 2 Out of Stock Notification Extension by Bsscommerce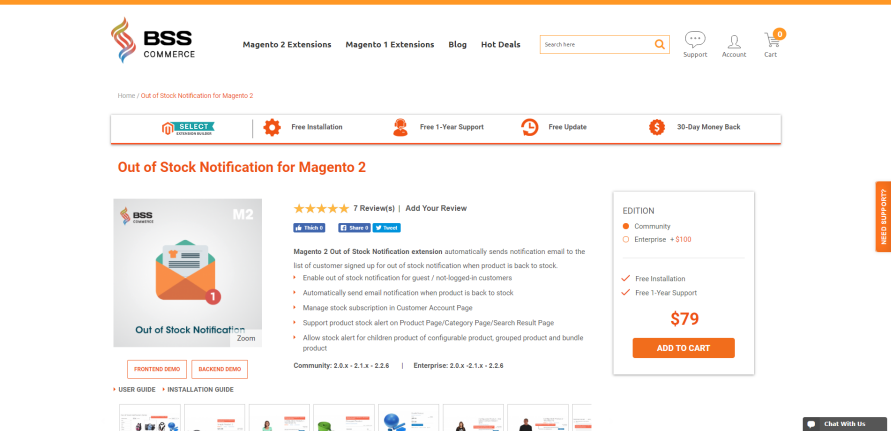 Magento 2 Out of Stock Notification extension automatically sends notification email to the list of customer signed up for out of stock notification when product is back to stock.
5. Product Stock Notification for Magento 2 by Emiprotechnologie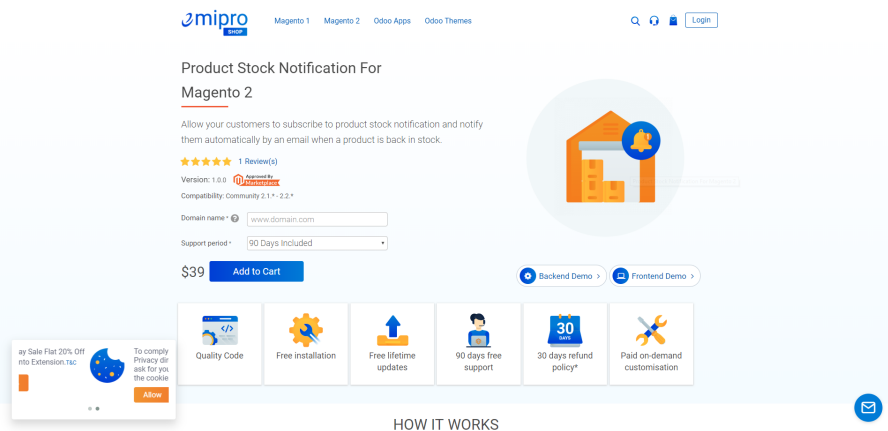 This product alert for Magento 2 allows your customers to subscribe to product stock notification and notify them automatically by email when the product is back in stock.
5+ Best Magento 2 Out of stock notification
Provider
Review & Rating
Highlight features
Description
Demo
Price
Detail
Landofcoder
94% – ‎8 reviews

Customer can subscribe notification for: Out of Stock Product, Sale Off Product, Change Price Product, New Product
Notify customers by product( product stock status, price changes), category(add new product)
Notify By Email Automatically or Manually
Customizable Email Template
Subscribe specific products or group of products
Manage the list of subscribes easily
Display stock alert in a popup or on a page
Display notification any page
Choose to subscribe or unsubscribe with ease
Show Advanced Report: Out of Stock Product Subscription
All Product Types Supported
[Coming] Subscribe category notify new products in the category

Your customers may not have enough time to keep visiting your store frequently to get updates. Hence, we created Magento 2 product updates notifications. The extension helps you to alert customers about new stock status, new price changes.
Frontend
$99
Details
Mconnect

Display availability of stock for every product type on front end.
Visitor can subscribe for back in stock alert.
Admin can manually add a subscription.
Admin can see the list of subscribed users and alert them when product is back in stock.
Email is sent to all the subscribed users once the product is back in stock.
Email template setting for admin to receive email when product's quantity reaches its
threshold.
Enable/Disable the option of stock alert subscription for guest users.

Never miss out customers due to out of stock products. Magento 2 updates notifications allows visitors to opt for back in stock alert.
Get yourself notified before a product goes out of stock. Applicable for all product types.
Frontend
$75
Details
 Amasty
 5 – ‎3 reviews

Subscribe to stock notifications and price alerts
Enable stock and price subscriptions for guest visitors
Subscribe to out of stock options of configurable items
Let customers easily manage their subscriptions
Track all stock and price subscriptions in the admin

Magento 2 our of stock email notification lets customers subscribe to stock and price notifications to be timely informed about product changes. Keep track of all customer subscriptions to manage your stock accordingly and increase sales.
Frontend
 $229
 Details
 Bsscommerce
 5- 5 reviews

Enable out of stock notification for guest / not-logged-in customers
Automatically send email notification when product is back to stock
Manage stock subscription in Customer Account Page
Support product stock alert on Product Page/Category Page/Search Result Page
Allow stock alert for children product of configurable product, grouped product and bundle product

Magento 2 Out of Stock Notification extension automatically sends notification email to the list of customer signed up for out of stock notification when product is back to stock.
Frontend
 $79
 Details
 Emiprotechnologie
 NG

Customer subscribes to get notified via email when out of stock product is back in stock.
Admin can see the list of subscribed customers.
Admin can delete the customer from the subscription list.
Admin can send product stock notification email manually to single/multiple subscriber.

 When a customer wishes to purchase a product and finds it to be out of stock, he has to wait till the product gets back in stock. But how will the customer know when the product is back in stock without frequently checking the product page. Magento 2 out of stock subscription allows your customers to subscribe to product stock notification and they will be notified when the product they want is back in stock.
Frontend
 $39
 Details
Other Information( Version Compatibility, Frequent update, Installation & Support Services, Self-experiences

Top 5 Extensions
Compatibility
Updates
Installation & Support
Customer Experiences
 Landofcoder
Magento 2.0.x – Magento 2.1.x – Magento 2.2.0 – Magento 2.2.x – Magento 2.3.0 – Magento 2.3.x
Free Lifetime Updates

Free Support
Free Installation

Excellent support. Customer satisfaction focused customer relationship represantatives. Great great extension. I don't have to spend lots of time telling my customer about my product status. Really impressed by the way it shows me the most wanted product by customer.
Mconnect

Magento 2.0x – 2.3x

Free Lifetime Updates

Previously, I received so many emails from my customers asking about the stock information of one or the other product. And I was tired of answering them myself. Then I managed to hire a person who manages these things on my behalf. But later I thought that this will not solve this issue. There has to be solution to this. I used this extension on my store and now I can easily manage the alerts and notification regarding products which goes out of stock. Also I have started retaining more customers. Thank you M-Connect guys!

 Amasty
Magento 2.1, 2.2, 2.3
Free Lifetime Updates

 Installation +

$59

Free Support 3 months

The extension works as described and easy to use. The support team has answered my questions within couple of hours. Thank you!
 Bsscommerce

Magento 2.0.x, 2.1.x, 2.2.2, 2.3.2

Free Lifetime Updates
 Out of stock notification extension is exactly what my site needs right now. Every time a customer sees an out of stock product, I lose a potential customer. This extension really helps me keep in touch with customer and send them updated info when the product stock is refilled.
Emiprotechnologie

 Magento 2.0 – 2.1, 2.2.x, 2.3.x

Free Lifetime Updates

Free Installation
Free Support

Not given

Magento 2 out of Stock Videos Tutorials

How to install Magento 2 out of stock subcription

How to use Magento 2 out of stock alert:

Some other extensions you maybe interested in

Related Posts