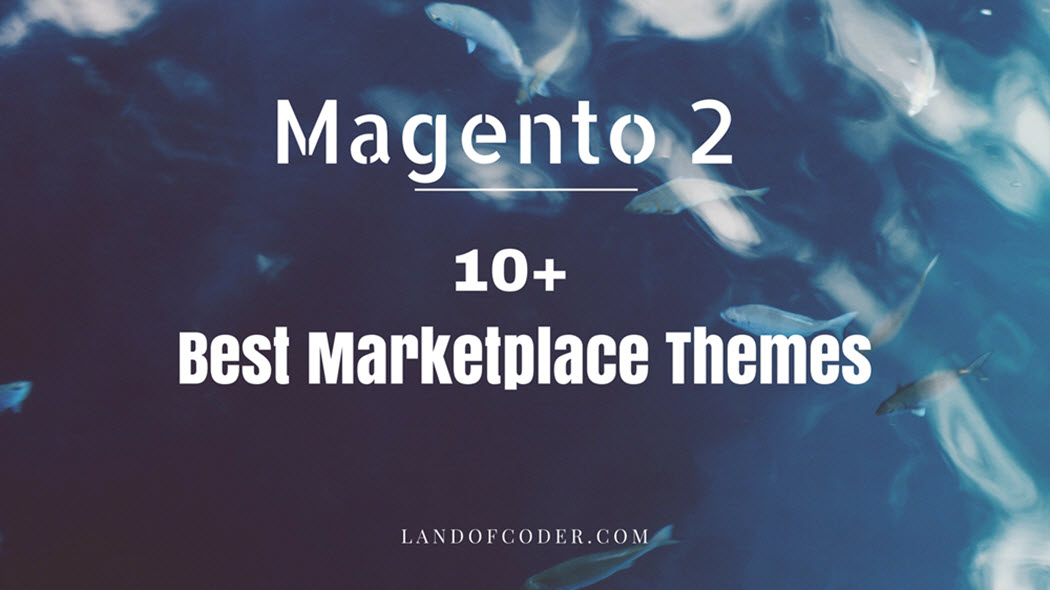 Nowadays, online business is becoming more and more popular.
In other words, it becomes "a sharp weapon" in business. If you can utilize it, you will attain the benefits.
What can we do with online business?
To get an online store that is perfect for any product and service, you need to purchase a multistore. Therefore, it is very important to get magento 2 marketplace theme because it is the crucial part of a multistore. In this blog, we are introducing you 10+ Best Magento 2 Marketplace Themes. Moreover, the following themes are fully compatible with Magento 2 Marketplace Extension from LandOfCoder. You can view detail here: https://landofcoder.com/magento-2-marketplace-extension.html/
Theme
Rating
Price ($)
Highlights
Support Duration
Detail
Ves Office Furniture
5
84

Modern, User Friendly & Mobile Optimized
Premade Elements
The Best Mega Menu
Drag N Drop Page Builder
Eye-Catching Slider
Stunning Blog Posts
Product Slider With Smooth Effects
Astonish Features

12 months
Detail
Ves Bestmart
4.8
84

Modern, User Friendly & Mobile Optimized
Premade Elements
The Best Mega Menu
Drag N Drop Page Builder
Eye-Catching Slider
Stunning Blog Posts
Product Slider With Smooth Effects
Astonish Features
Ajax Based Search AutoComplete & Auto Suggest

12 months
Detail
Ves Vigoss
4.9
84

Modern, User Friendly & Mobile Optimized
Premade Elements
The Best Mega Menu
Drag N Drop Page Builder
Eye-Catching Slider
Stunning Blog Posts
Product Slider With Smooth Effects
Astonish Features

12 months
Detail
Ves Sunbox
5
84

Modern, User Friendly & Mobile Optimized
Premade Elements
The Best Mega Menu
Drag N Drop Page Builder
Eye-Catching Slider
Stunning Blog Posts
Product Slider With Smooth Effects
Astonish Features

12 months
Detail
Ves Oshop
4.9
84

Modern, User Friendly & Mobile Optimized
Premade Elements
The Best Mega Menu
Drag N Drop Page Builder
Eye-Catching Slider
Stunning Blog Posts
Product Slider With Smooth Effects
Astonish Features

12 months
Detail
Ves Flipcart
4.8
84

Modern, User Friendly & Mobile Optimized
Premade Elements
The Best Mega Menu
Drag N Drop Page Builder
Eye-Catching Slider
Stunning Blog Posts
Product Slider With Smooth Effects
Astonish Features
Ajax Based Search AutoComplete & Auto Suggest

12 months
Detail
Ves Global
5
84

Modern, User Friendly & Mobile Optimized
Premade Elements
The Best Mega Menu
Drag N Drop Page Builder
Eye-Catching Slider
Stunning Blog Posts
Product Slider With Smooth Effects
Astonish Features
Ajax Based Search AutoComplete & Auto Suggest

12 months
Detail
Ves Flashshop
4.9
84

Modern, User Friendly & Mobile Optimized
Premade Elements
The Best Mega Menu
Drag N Drop Page Builder
Eye-Catching Slider
Stunning Blog Posts
Product Slider With Smooth Effects
Astonish Features

12 months
Detail
Webkul
4.6
99

It will adjust your complete template view in screen format.
To adapt the responsiveness of Magento2, we are not editing core template or files, it's a complete package.
Working with all third party, modules having responsiveness.
Easy to Make a review and contact to the seller.
Product image gallery is already included in the template that means for product thumbnails you don't need to increase the area.
Gallery will display rest of the product images in the carousel format.
Mega menu supported.
Retina based product zooming.
Complete flat design.
Social media sharing option included.
Lightbox product thumbnail zoom.
Working with all Magento2 marketplace add-ons and modules.

3 months
Detail
CMS mart
4.9
500

Quickly view products in Catalog Widget
Display a popup with all information
Supports all product types
Display all product options in the quick view popup
Fully responsive popup
Support Multi stores
Add product to cart right in popup
Quick View button Setting
Add to cart button setting
Allow show product detail formation
Perform other actions like on a real product page
Display product detail page link
Cross browser
Allow show special products

3 months
Detail
1. Ves Office furniture
The first theme of the list 10+ Best Magento 2 Marketplace Themes is Ves Office furniture. It is Responsive Multipurpose Magento Theme suitable for all types of furniture and home decor. The theme is created with responsiveness and Retina Ready; therefore, it makes your site look fabulous on any devices.
Built on Powerful Framework with Page Builder inside, Office Furniture supports you to customize with ease. Moreover, several awesome modules included help you boost conversion rate of your website sharply.
Furthermore, Office Furniture also allows you to create outstanding website with attractive design, multi-languages, multi-currency, flexible with theme options, easy to customize, and so on.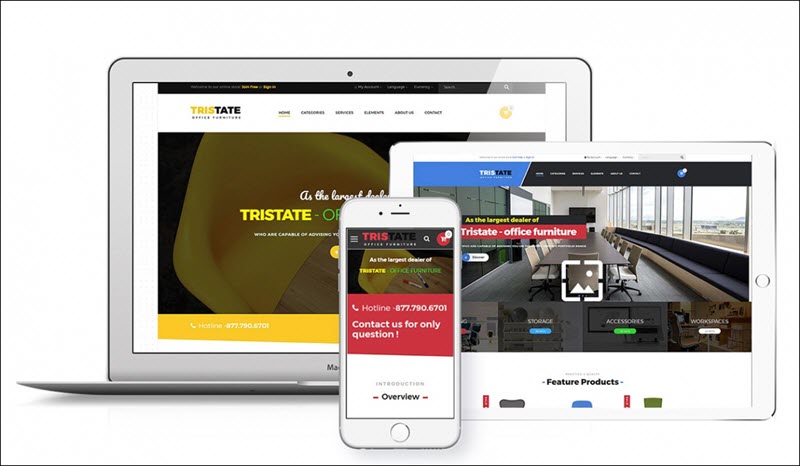 2. Ves Bestmart
Secondly, Ves Bestmart comes with elegant, eye catching design. Coming with product-oriented in mind, the theme brings you white background, eye-catching slider, neat & clean layout. That helps you showcase products at it's best.
Besides, thanks to drag n drop Page Builder, you can save a lot of time to create your own beautiful website easily.
Moreover, Ves Bestmart supports multi languages and multicurrency. Also, it is optimized for SEO, Conversion Rate to make your website rank higher on search engine.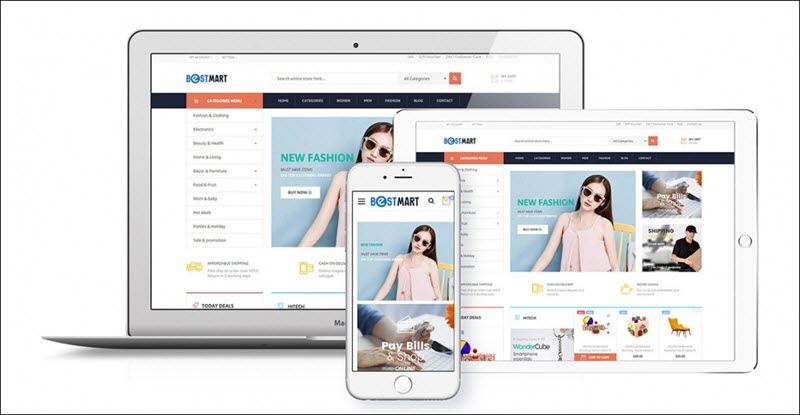 3. Ves Vigoss
The third template mentioned in the list Best Magento 2 Marketplace Themes is Ves Vigoss. This Magento 2 theme comes with a set of features that improves the functionality of your store and makes it more user-friendly.
Besides, this theme is supported Multilingual and Multiple Currencies; hence, your store can be displayed for all customers with multiple languages and currencies to break the main barrier of languages to push more conversion ratio on your store.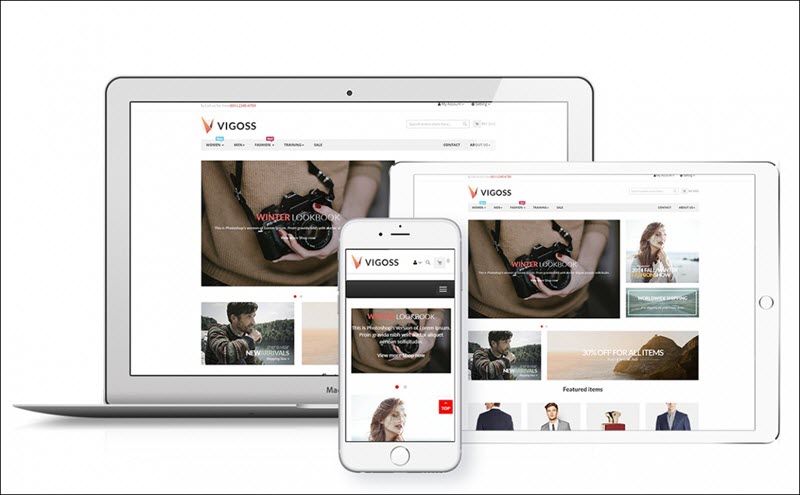 4. Ves Sunbox
Next, Ves Sunbox, an elegant Magento 2 Glasses Theme Design, is one of the best magento 2 marketplace themes. With the great combination of between color, background, skillful designs, the theme will bring the best solutions for any E-commerce store. Besides, thanks to Bootstrap 3 Framework, it becomes more flexible to customize. It is extremely suitable for big store, Global Enterprise.
Moreover, by the theme, customers will have to experience interesting Shopping on the best your Online Store. With the elegant feature, clean code and Advanced Modules, Ves Subbox allows you to use it for a broad range of Devices.
Moreover, with the support of multiple languages and currencies, you can significantly expand your customer base.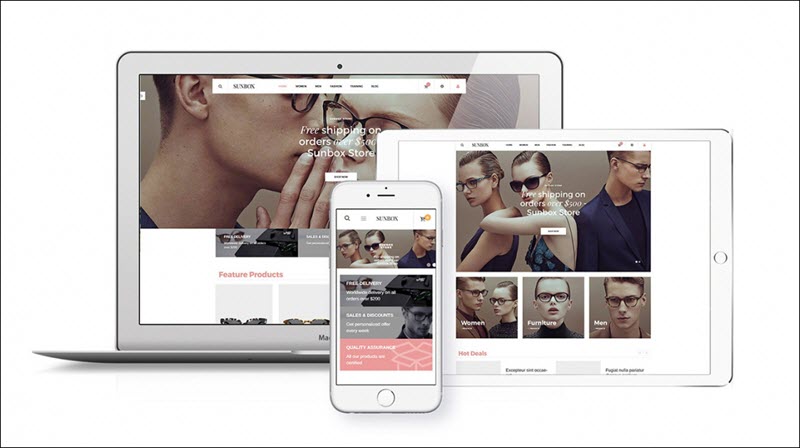 5. Ves Oshop
Ves Oshop is the next one in the list of best magento 2 marketplace themes. It is perfect for any Ecommerce store. You can build to sell any Clothes, Bags, Shoes, Accessories, and so on. Thanks to building on Boostrap 3 framework, the theme is optimized on Mobile perfectively.
In addition, it comes with RTL & Multiple Languages, Currencies and SEO Optimization, it helps Google Search index correctly and saves you a lot of time to reveal to your customers.

6. Ves Flipcart
Ves Flipcart comes with a series of Beautiful Homepages, Fully customization, a perfect combination of color and layouts. In addition, It's extremely customizable, easy to use and fully responsive. Great as a starting point for your projects. Suitable for every type of E-commerce store. Simple steps, Mobile Touch Optimization and Advanced Modules, that will support you create Website with ease and save tons of time.
In other words, this theme is optimized for SEO – a crucial factor for any Online store. That means your store can appear at the result when customers search. Just enter meta data, keyword at the box, your site can be index automatically by GG with ease.
Moreover, Ves Flipcart is supported Multilingual and RTL Languages. It breaks the barrier of languages to get access your store.
Let's take a look our new Magento 2 Theme in Supermarket with Powerful features.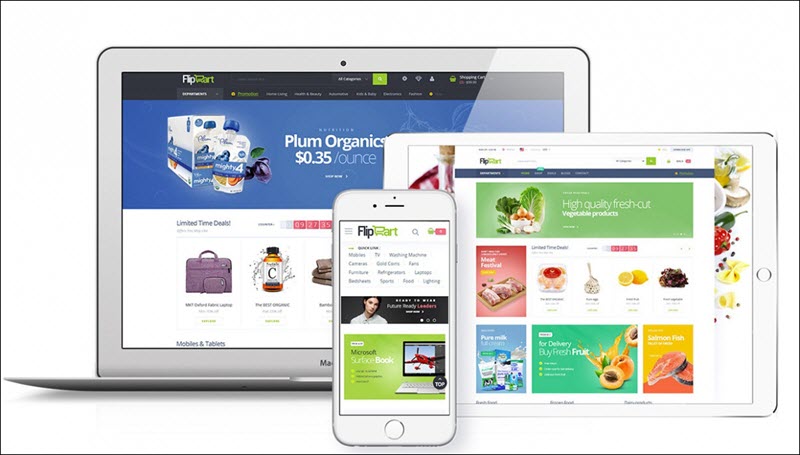 7. Ves Global
Ves Global is one of the best premium Magento 2 marketplace themes and mainly focus on the supermarket for food and fashion. Whenever or wherever your customers are, they can experience your super rich and impressive product range.
With beautiful visual effect of slideshow, vertical & mega menu and Web responsive design which automatically changes width according to screen solution, your website will easily catch the eye of the customer at the first sight.
Besides, don't have to worry about your massive product because Ves Global contains neat and clean layouts for emphasizing.
Additionally, with high speed to load the page and easy checkout method, this theme is a key method for your online store.
8. Ves Flashshop
Ves Flashshop is an other theme in the collection of the best magento 2 marketplace themes. It is customizable and suitable for multi-category online store with multiple branches and products such as digital, electronic, food, home decor store and supermarket.
Besides, with advanced extensions such as Mega Menu, Page Builder, Blog Extension, Brand Extension, it makes your website as much force full as possible. To specify, the integration gives your website smooth transition effect and allows you to show numerous products of each category in each tab with the slider as well as many categories with the display image.
In addition, Ves Flashshop is mended with SEO for every single product and category which can make your whole store and each part become more well-known when customers search on the Internet. Furthemore, it can help all user from various device can access your website easily due to the mobil-optimization.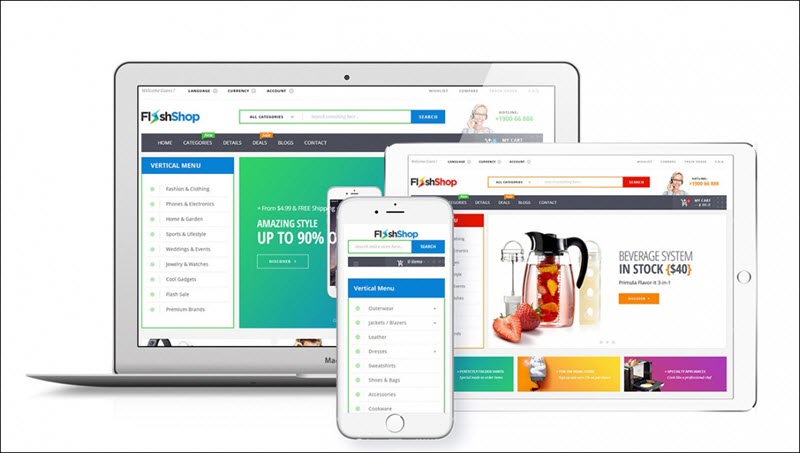 9. Marketplace Responsive Template For Magento 2
The next theme of the list of best magento 2 marketplace themes is Magento 2 Marketplace Responsive Theme. This theme will support all screens either you are viewing your marketplace store site in small or big screen devices it will work very fine on all screens. After installing this theme, marketplace seller list and their products will be displayed on home page.
Besides, this theme provides an end to end support for magento2 marketplace multi vendor module for seller information, rating, reviews to sellers, image icon and vote count.
Moreover, the template offers sellers a dedicated profile/micro-site view which will be visible to customer.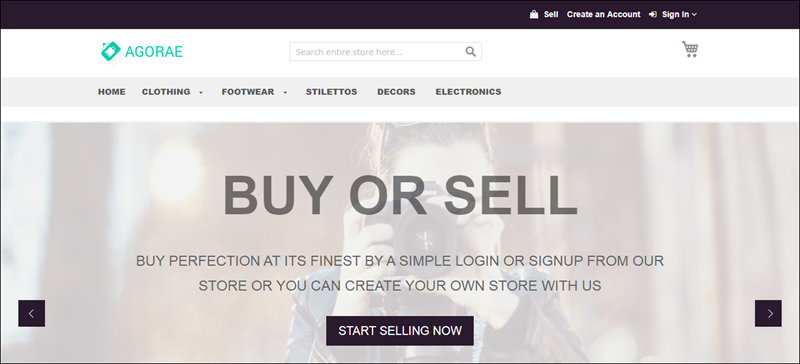 10. Multistore Theme for Magento 2
Last but not least, it is Responsive Multistore Theme for Magento 2. This theme comes with unique interface and bundled advanced extensions. Especially, it is integrated Multiple Vendor module that makes your store more perfect with many sellers love to join your site.
Moreover, this magento 2 marketplace theme is an effective solution for customers to view product details quickly without leaving the catalog navigation page.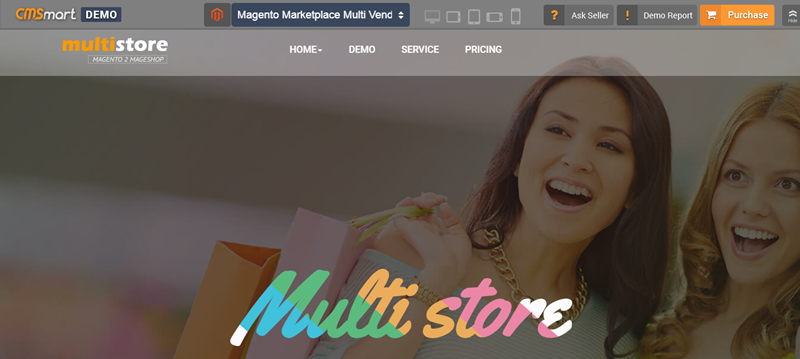 Note: If you want to build your Marketplace powerful, Magento 2 Marketplace Extension  and Magento 2 Marketplace PRO on Landofcoder will be your smart choice.
Related Blogposts You May be Interested In: