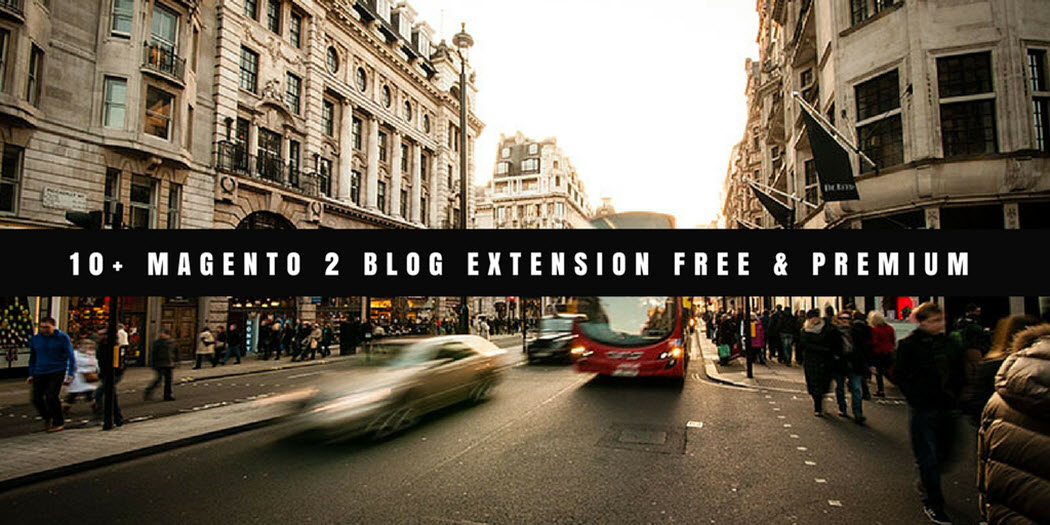 Creating a professional blog on Magento 2 store is definitely an effective way to attract customers attention and increase purchasing from both existing and potential customers. Now, lets check out 10 best Magento 2 Blog Extension free & premium!

1. Blog extension for Magento 2 By LandofCoder | $129.00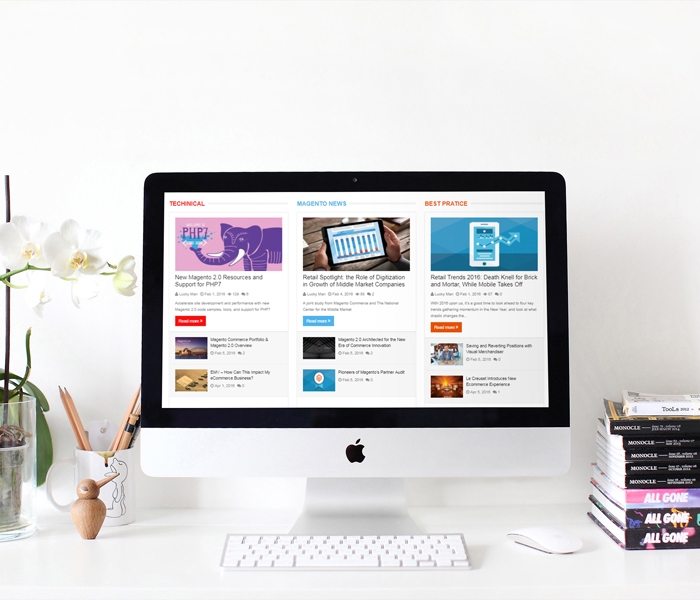 Price Comparison
You cannot find any other Magento 2 Blog Extension with a low price anywhere except from Landofcoder. With only $129.00, you possess the best Magento 2 Blog Extension ever.
Support Quality
You will be supported during 12 months with an active and professional staff who solves all your problems. The admins are willing to answer all your questions as soon as possible. Moreover, you can see and read Landofcoder's guides, tutorials and videos to run this extension better. You can believe the service quality from Landofcoder because of its 8 year establishment.
Outstanding Features
With free support and update, LandofCoder's Magento 2 Blog extension is highly appreciated by its users thanks to various preeminent features of page design. The extension suits 9 versions of Magento 2 ranging from Magento 2.0.0 to Magento 2.1.x . Beside main features of a blog extension such as optimization of mobile, SEO; post arrangement and displaying images or videos; the extension offers new designs of styles, colors. At the same time, the extension allows users to integrate their blog with other social networks as well as add vote button for blogs.
More feature highlights:
Multiple layouts types
Touch optimized owl carousel
Tag cloud supported
Related Post widget supported
Easily arrange posts in each category
Easily add nickname, avatar biographical
Manage related post
Import Blog from WordPress
Right to left language support such as Arabic, Hebrew, Persian, etc.
| | |
| --- | --- |
| Price | $129.00 |
| Compatibility | Magento 2.0.0 – Magento 2.0.1 – Magento 2.0.2 – Magento 2.0.3 – Magento 2.0.4 – Magento 2.0.5 – Magento 2.0.6 – Magento 2.0.x – Magento 2.1.x |
2. Magento 2 Blog Extension by Mageplaza | Free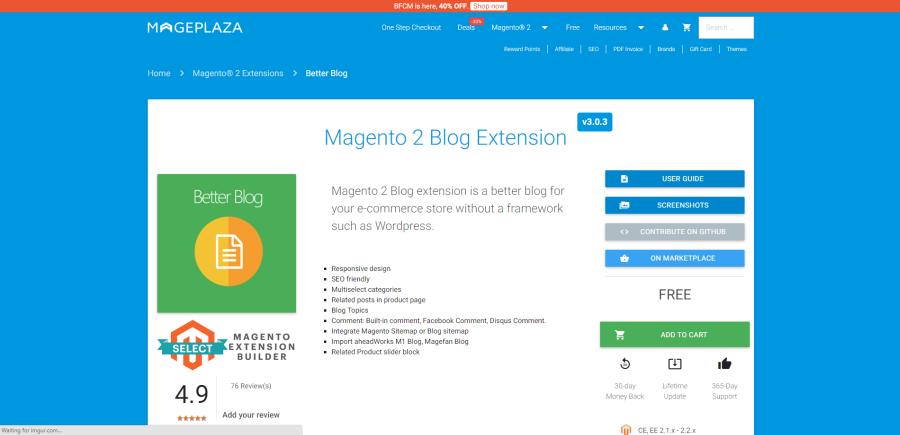 This free extension offers you many interesting features with its responsive design, diverse categories, and integration in Magento backend. The development of smartphones and tablets requires the friendliest design for customers to interact with the objects they need. And this extension meets that need. Besides, it introduces category tree which can help you manage each one easily and prettily. When customers want to add comments, they can do with numerous engines such as Magento built-in, Facebook, and Disqus.
More feature highlights:
Responsive design
SEO friendly
Multiselect categories
Related posts in product page
Blog Topics
Comment: Built-in comment, Facebook Comment, Disqus Comment.
Integrate Magento Sitemap or Blog sitemap
Import aheadWorks M1 Blog, Magefan Blog
Related Product slider block
| | |
| --- | --- |
| Price | Free |
| Compatibility | CE, EE 2.1.x, 2.2.x, 2.3.x |
3. Advanced SEO Friendly Blog for Magento 2 by FME Extensions | $89.00
Magento Advance Blog is a feature-rich extension that empowers merchants to own a publishing platform of their own. It adds a flair for journalism to your online business so that you no longer need a media house to spread a word about your organization. Have a corporate blog, be your own voice, and share all about product insights, useful tips, and happenings around your brands, products, and services.
Price – Value for Money
Product Price always represents the feature it possesses. Whether you buy a low priced or higher one, you save in either way. An extension with low a price may be sufficient for your current day needs but its limited functionality may want you to add up features at a later stage.
Compare prices of extensions against the features and go for the best value for money. Magento 2 blog extension by FME is a comprehensive tool for adding a publishing platform to your existing eCommerce website with all the advanced features you may need to communicate and interact with users and bring them to the store.
Free Lifetime Support and Upgrades
Advance SEO-friendly blog extension for Magento 2 is backed by lifetime support and upgrades. It's like investing once and reaping the benefits forever. The lifetime supports assists you eradicating the errors free of cost. The timely security upgrades allow you to stay up-to-date from the cyber threats.
What's different in Advance Blog extension?
Like any other blog extension, this tool builds you a publishing platform for any kind of content that includes text, images, and audio or video files. In addition to that, the plugin encourages user interaction with comments section and exhibition of similar products or articles on your blog. The configuration of Meta details for each post ensures its search engine visibility without letting you install a separate plugin for making the content SEO-friendly. Plus, you can highlight recent posts and comments on other pages with the help of blocks.
Core Features – A Quick Recap
Compose and format a post in WYSIWYG editor
Publish a post right away or schedule it for a later date
Attach relevant articles and store items to a post for higher conversions
Configure Meta details for categories, subcategories, and articles
Create image gallery for your blog and display them in a camera slider
Add or embed videos to articles
Enable Readers to comment via email or Facebook profile with spam prevention
Add blocks to highlight recent posts, comments, categories, and featured articles on other pages
Configure RSS Feed to inform the readers about the latest post in a timely manner
Select a layout for the articles you post
| | |
| --- | --- |
| Price | $89.00 |
| Compatibility | Magento 2.1.x, 2.2.x |
4. Blog Extension for Magento 2 by MageFan | Free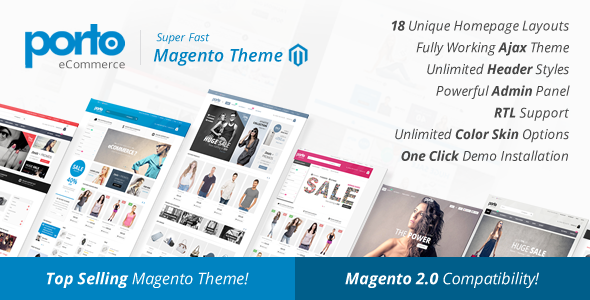 The MageFan's Magento 2 blog extension free gives main features for you to post blogs and put them into different categories. The extension also allows creating blog widgets with tag cloud, recent posts, and monthly archive. On Porto Theme, you can use blog extension without modifications or styles corrections. With easy installation and configuration, the extension is believed to be one of the most choices of Magento 2 user.
More feature highlights:
Blog Posts, Categories, and Tags
Best SEO Practices
Advanced Permalinks
Comments
Multilanguage and Multiple Websites Support
Next & Previous Post, Related Posts and Related Products
Blog Widgets
Media Gallery & Videos
Accelerated Mobile Pages (AMP)
| | |
| --- | --- |
| Price | Free |
| Compatibility | Magento 2.1.0 – 2.3.2 |
5. Blog for Magento 2 by aheadworks $349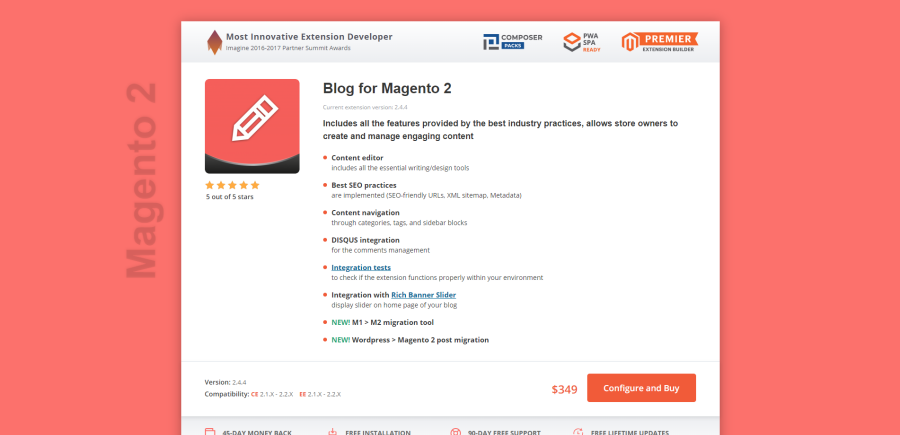 This extension gives you a bunch of competitive features with its optimized workflow, extensive testing, and quality code. Since its design elements of the blog are borrowed from Magento, it provides a seamless integration with your store. The WYSIWYG editor also provides a standard set of necessary writing and editing tools. It cannot be denied the Aheadworks's extension is useful for Magento users in many ways.
More feature highlights:
Blog layout
Migration tool
Content navigation
Blog posts where the product mentioned
Display related products
SEO options
Price
$349.00
Compatibility

CE

 2.2.X – 2.3.X 

EE

 2.2.X – 2.3.X
6. Magento 2 Blog Extension by Coding Basics |Free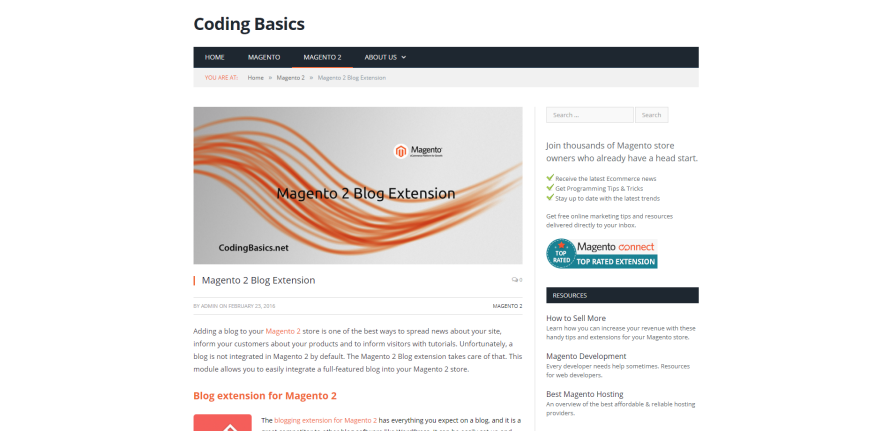 This Coding Basics's Magento 2 blog extension free takes care of integrating into Magento 2 by default. The extension settings allow controlling most elements of layout and navigation including the number of posts per page, sidebar layout, tags, feature images, CMS blocks, etc. In addition, it also poses numerous supports about categories, blogging software, SEO Optimization, Disqus comments.
7. Blog MX for Magento 2 by Mirasvit | Free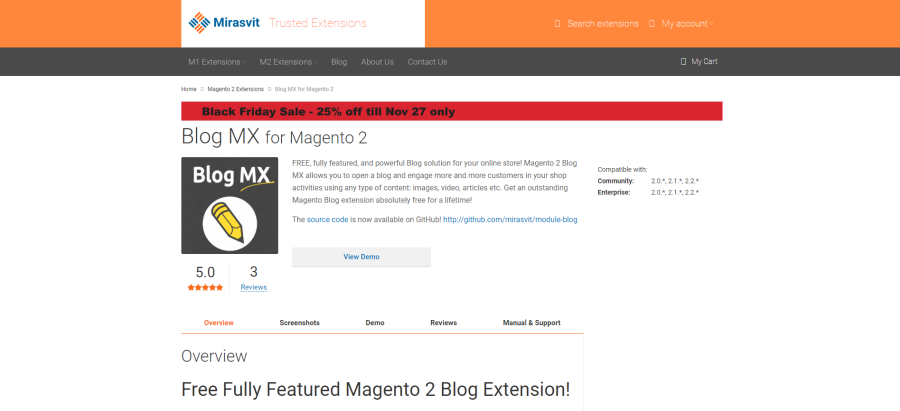 Mirasvit's Magento 2 blog extension free offers basic features for a Magento 2 store such as appearance and usability, post settings managing from the dashboard, SEO friendly posts, etc. Besides, you can pin featured posts at the top of the blog and engage more customers to gain their attention. Then you can also use multi-level category structure to meet the store's need.
Other features:
SEO friendly posts and URLs
Multi-level categories
Ability to preview posts before publication or before save changes
RSS Feed
Tags and Tag Cloud
Disqus comments
Featured image for posts
Ability to pin posts at the top
Price
Free
Compatibility
Community: 2.0.x – 2.3.x
Enterprise: 2.0.x – 2.3.x
8. Blog Pro for Magento 2 by Amasty | $319.00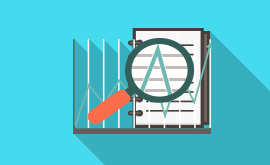 The strongest benefits of the Amasty's blog extension can be named as user-friendly interface and advanced usability. This extension is designed to suitable for various kinds of devices. You can customize layout by using an intuitive constructor to arrange data main blog page as well as on post pages. Also, this module has flexible settings to specify how your post should be displayed. Amasty applies many benefits for their customers when using their products including the money-back guarantee, caring support, and loyalty program.
Other features:
Create catchy posts with an intuitive editor
Easily customize your blog pages layout
Use AMP to make blog pages work fast
Add multi-level category tree and 3D tags
Manage comments and let visitors share content
Promote your blog with advanced SEO capabilities
| | |
| --- | --- |
| Price | $319.00 |
| Compatibility | Magento 2.1, 2.2, 2.3 |
9. Advanced Blog – Extension for Magento 2 by Solwin Infotech | $79.00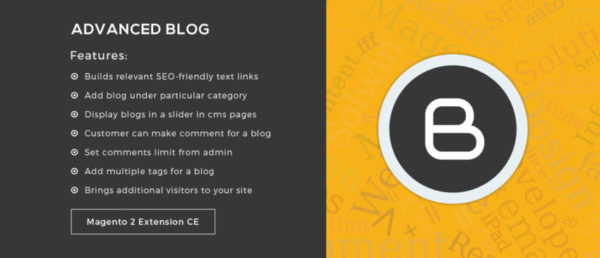 This Solwin Infotech Magento 2 blog extension is built on many core features to help you with the most efficient blogs on your Magento 2 store with relevant SEO- friendly text links, add blog under a particular category, set comments limit from admin and bring the additional visitor to the site.
Other features:
Provide commented visitor's detail
Provide communication platform
Display as a slider
Support multiple tags
Price
Community $79.00
Enterprise $229.00
Compatibility
CE 2.0.x – 2.1.x – 2.2.x – 2.3.x
10. Blog Extension for Magento 2 | MageArray | $99
Using the MageArray's blog extension, you can take control over category, tag, comment, archive, related products, display, content, etc. The extension also offers a lot of main features that a blog extension needs such as:
Add blog post by short and long content.
Add Image to article with fast loading and auto re size feature.
Grid/list post arrangement.
Category management with category wise posts listing.
Author management with posts written by author page. – Upcoming
Post tagging feature for tag cloud and search post by tag.
Multistore support to have multilingual blog or enable/disable post per store.
Comment management with approval, captcha and email notification feature.
Related products per post.
Related blog posts per post.
Latest Posts widget
Popular Posts widget
Search blog posts by keyword
Customization URL , meta title, meta keywords and meta description per post , category and author with Breadcrumb support to get maximum search engine visibility
Social Sharing (With help of our Social Sharing Plugin)
| | |
| --- | --- |
| Price | $99.00 + $50.00 Install Fee |
| Compatibility | Magento  2.1, 2.2 |
11. Blog Extension for Magento 2 | Webkul $99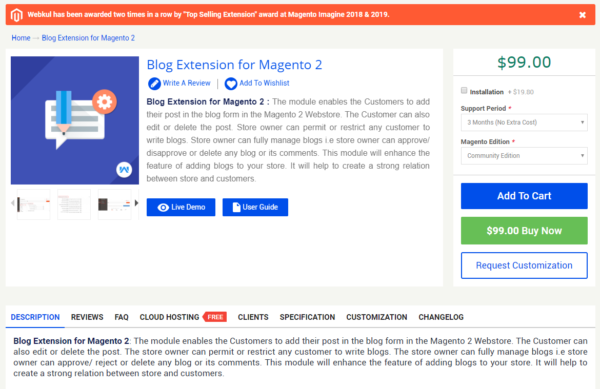 The module enables the Customers to add their post in the blog form in the Magento 2 Webstore. The Customer can also edit or delete the post. Store owner can permit or restrict any customer to write blogs. Store owner can fully manage blogs i.e store owner can approve/ disapprove or delete any blog or its comments. This module will enhance the feature of adding blogs to your store. It will help to create a strong relation between store and customers.
List of features:
The store owner can give permission or restrict the customer to write the blog.
The store owner can set the limit of words to be displayed on a particular blog on List view page of blogs.
The store owner can add any number of blog categories.
A user can subscribe to blogs at the time of registration or after registration.
The permitted customer can add the blog.
The permitted customer can edit or delete their own blog.
Store owner can fully manage the blogs and its comments by approving/un-approving or by deleting them.
By using this module customers can write/update his posts on the blog page.
Proper blog management like add/edit/delete from customer's account.
Each customer can see a blog by visiting the blog page.
Any logged in user can comment on any post of the customer.
Admin can manage all blogs and its comments.
Admin can delete any blog.
| | |
| --- | --- |
| Price | $99.00 + $19.8 Install Fee |
| Compatibility | Magento  2.1, 2.2 |
12. Magento 2 Blog Extension | Magebest Free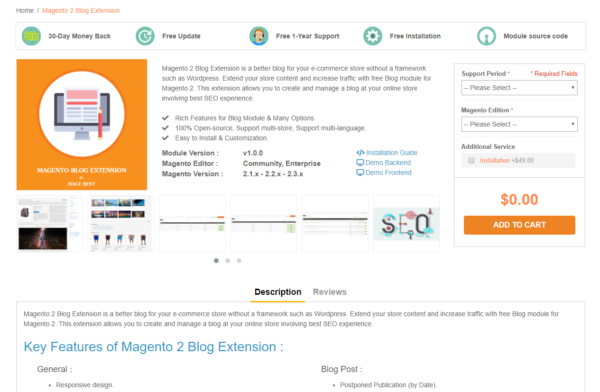 Magento 2 Blog Extension is a better blog for your e-commerce store without a framework such as WordPress. Extend your store content and increase traffic with free Blog module for Magento 2. This extension allows you to create and manage a blog at your online store involving best SEO experience.
List of features:
Rich Features for Blog Module & Many Options.
100% Open-source, Support multi-store, Support multi-language.
Easy to Install & Customization.
| | |
| --- | --- |
| Price | Free |
| Compatibility | 2.1.x – 2.2.x – 2.3.x |
13. Magento 2 Blog | Magesale Free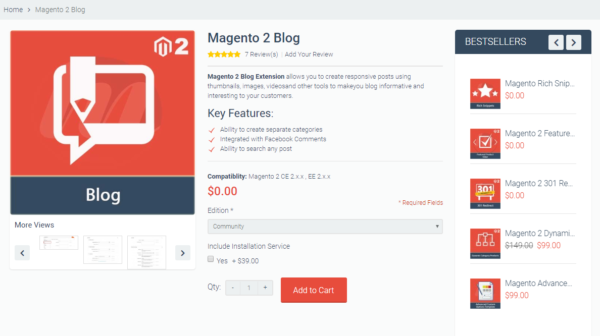 Magento 2 Blog Extension allows you to create responsive posts using thumbnails, images, videosand other tools to makeyou blog informative and interesting to your customers.
Key Features:
Ability to create separate categories
Integrated with Facebook Comments
Ability to search any post
| | |
| --- | --- |
| Price | Free |
| Compatibility | Magento 2 CE 2.x.x , EE 2.x.x |
14. Blog Extension For Magento 2 | Cmsmart $106.85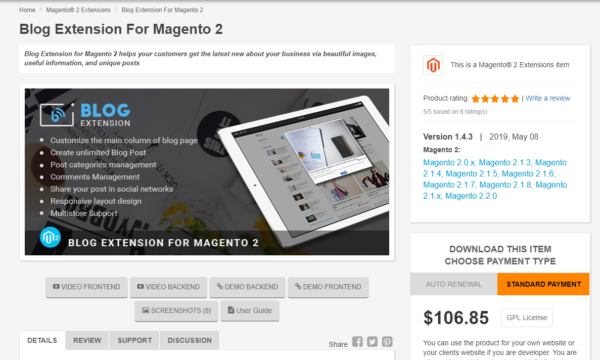 Blog Extension for Magento 2 helps your customers get the latest new about your business via beautiful images, useful information, and unique posts
Customize the main column of blog page: There are 3 types of blog page: Blog page with a column, blog page with two columns and blog page with three columns.
Create unlimited Blog Post: You can create, edit, delete and manage without limit Blog Post right in the back-end.
Post categories management: You can create, edit, delete post category and select some posts for appropriate post categories right in the back-end.
Comments Management: All comments of your customers will be managed in the back-end. You can delete comment or change status (enable, disable or pending) for each comment.
Share your post in social networks: Visitors want to read and spread interesting content. With Magento 2 blog plugin you can add sharing buttons to each post page through Facebook, Twiter…
Responsive layout design: Responsive design that works on desktops, tablets, and mobile devices.
Multistore Support: Our Magento 2 blog extension supports multiple stores for Category, Post, Comment, multiple languages and multiple websites.
| | |
| --- | --- |
| Price | $106.85 |
| Compatibility | Magento 2.0.x, Magento 2.1.3, Magento 2.1.4, Magento 2.1.5, Magento 2.1.6, Magento 2.1.7, Magento 2.1.8, Magento 2.1.x, Magento 2.2.0 |
Provider
Rating
Price

 

($)

Highlight
Support duration
Detail
Landofcoder
5
68

Start your blog in 1 minute
Fully Responsive & Mobile Optimized
Multiple stunning layouts & post styles
Live Editor: Change font size, background color, border color, layout, etc
Live Preview & schedule post with ease
Display images or video ( Youtube/Vimeo) in blog with ease
Fast search blog posts by keyword
Show "Related posts" anywhere using widget
Easily arrange posts in each category.
[New] 14+ Social Networks Integrated
[New] Add vote: like/dislike buttons
Show/hide author profile
[New] Import Blog From WordPress
Comment management with approval, captcha, and email notification feature.
Multiple Magento Stores Supported
SEO Optimized, Multi-lingual Language & RTL Support
Smoothly integrates into any theme
Fast speed with Magento Block Caching

12 months
Detail
Mageplaza
4.8
0

Responsive design
SEO friendly
Multiselect categories
Related posts in the product page
Blog Topics
Comment: Facebook Comment, Disqus Comment.
Integrate Magento Sitemap or Blog sitemap
100% FREE, Open-source code
Improve UX:Â Layered Navigation
Increase sales value with product recommendations: Frequently Bought Together, Who Bought This Also Bought

12 months
Detail
FMEEXTENSIONS
5
109.99

Setup your Magento blog at a glance
Compose and format posts in real time with WYSIWYG editor
Publish a post or schedule it for a later date and time
Create categories and subcategories to better showcase articles
Build image gallery to your website and add images to posts
Configure an alluring camera slider for images
Add/Embed videos from YouTube
Display Relevant Products and Posts under blog-posts
Optimize posts and categories for better SEO rankings
Allow user comments via Facebook account and email address
Multiple stores supported
Select among the multiple article layouts
Utilize blocks to highlight recent posts, featured ones, comments
Add search block to ease users in finding a post
Configure RSS feed for higher reader retention
Exhibit social profiles of your business

Lifetime
Detail
MageFan
4.6
0

Blog Posts, Categories and Tags
Magento 2 Multi-Store Support
Posts Search
Related Posts & Related Products
Blog Widgets
Permalinks
Blog Posts and Categories import from WordPress
Import from aheadWorks blog extension for Magento 1
Sitemap XML & RSS Feed also included
Compatible with Porto Theme for Magento 2
Accelerated Mobile Pages (AMP)

No free support
Detail
Aheadworks
5
349

Content editor includes all essential writing/design tools
Best SEO practices implemented (SEO-friendly URLs, XML sitemap, meta data)
Content navigation through categories, tags, and sidebar blocks
DISQUS integration for comment management
Integration tests to check if extension functions properly within your environment
NEW! M1 > M2 migration tool if you are planning to move
NEW! Wordpress > Magento 2 post migration if you decided to migrate to Magento

3 months
Detail
Codingbasics
4.6
0

Create new blog posts, or edit the older ones
Full set of writing tools
Add a title, set a URL key for the blog post, use the WYSIWYG editor, and add the meta information
Schedule post
Completely SEO optimized
Disables spam comments automatically

No free support
Detail
Marasvit
4.8
0

SEO friendly posts and URLs
Multi-level categories
Ability to preview posts before publication or before save changes
RSS Feed
Tags and Tag Cloud
Disqus comments
Featured image for posts
Ability to pin posts at the top

lifetime free support
Detail
Amasty
4.9
299

Use responsielayout design
Customize blog posts display
Manage comments effectively
Allow users to share your content in social networks
Make your blog user- and seo-friendly

3 months
Detail
Solwininfotech
4.7
79

Build relevant Seo-friendly text links
Add blog under particular category
Display blogs in a slider in cms pages
Customers can make comment for a blog
Set comments limit from admin
Add multiple tags for a blog
Bring additional visitors to your site.

12 months
Detail
Magearray
4.9
99

Add blog post by short and long content.
Add Image to article with fast loading and auto resize feature.
Grid/list post arrangement.
Category management with category wise posts listing.
Author management with posts written by author page. – Upcoming
Post tagging feature for tag cloud and search post by tag.
Multistore support to have multilingual blog or enable/disable post per store.
Comment management with approval, captcha and email notification feature.
Related products per post.
Related blog posts per post.
Latest Posts widget
Popular Posts widget
Search blog posts by keyword
Customization URL, meta title, meta keywords and meta description per post, category and author with Breadthcrumb support to get maximum search engine visibility
Social Sharing (With help of our Social Sharing Plugin)

lifetime free support
Detail
Iwdagency
4.5
150

Display Magento header, navigation, shopping cart, & footer on WordPress
Use any WordPress theme or our included theme
Manage all of your blog posts, categories, and comments in WordPress

3 months
Detail
Video tutorial
View more Hot Magento 2 Extensions you may interested in
Related Posts