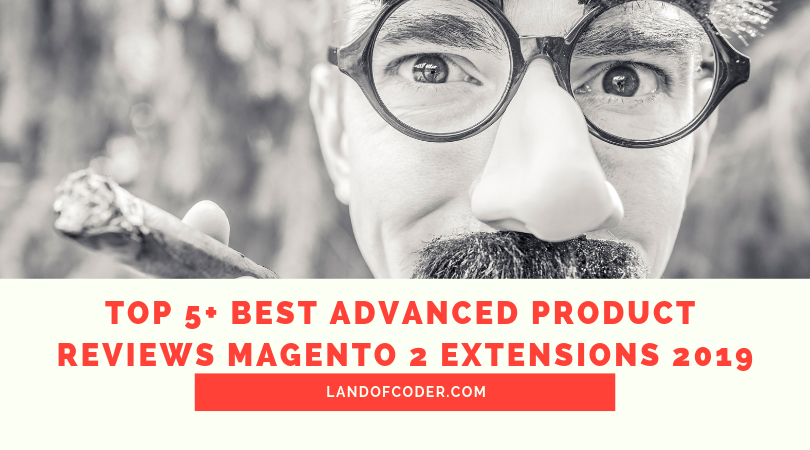 Has your website been equipped with Magento 2 advanced product reviews extension yet? From the past till now, all businesses reach success thanks to product feedbacks from consumers. Shoppers have a tendency of purchasing based on the product experience of the previous clients. It is a testing way without effort and money. It is clear that reviews play an essential role to decide product fate.
Each review made online by a consumer is a powerful type of advertisment for your store. You dont need to spend tons of cost on advertising but get the efficiency still such as trustworthiness, high Google ranking.
Presently, there are many Product Reviews Magento 2 plugins on the market. And you are confused of choosing the best one to install in your site. We will help you!
Here is the collection of the advanced modules about reviews following outstanding features. I filtered them relied on reviews by professionals and clients also.
Time to try them!
Table of Content:
1. Advanced Magento 2 Product Reviews | Landofcoder ( $99 – $68 ) 
Landofcoder created a number of high-quality products for Web development, One of these must be noticed is Advanced Magento 2 Product Reviews Extension. The module promises will bring consumers a wonderful product experience with tons of excellent features before coming to the page checkout.
The plugin allows clients to upload images, add pros and cons they feel about product in the review section. Hence, consumer can freely show their opinion and all reviews must be approved by admin before appearing on the front-end. These awesome features will be powerful to help store owner beat other competitors in the top Google ranking race.
Hightlight Features:
Review using images
Allowed to upload multiple review images
Add pros and cons about product
Rate the review helpful or not
Report Abuse displayed
Smartly filtered reviews by star ratings, helpfulness, keywords
Configure the review settings in one place
Add, edit & delete images gallery
Enable And Disable Gallery
Friendly Reply from admin
Send reminder emails with ease
Review Summary included for Admin
Multiple languages – RTL supports
24/7 professional support
Fast Speed with Magento Block Caching
Attractive Custom Work service
Compatibility: Magento 2.0.x – Magento 2.1.x – Magento 2.2.0 – Magento 2.2.x – Magento 2.3.0 – Magento 2.3.x
2. Advanced Product Reviews for Magento 2 | Amasty ($159 )
With Advanced Magento 2 Product Reviews by Amasty, it will satisfy your demands of reviews from clients.
The plugin allows clients to post photos within a review. If users want to upload several images, a slider with a lightbox will be automatically added. Futhermore, admin can make image area for submission or not, and delete special cunsumer's images before approval.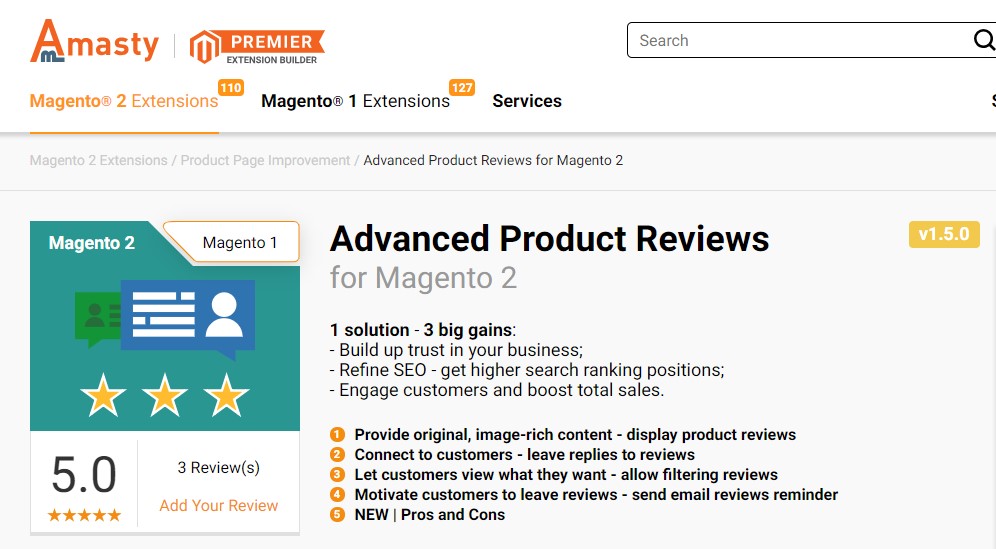 Additionally, Amasty provides a very effective tool is to sending email reminders with the " leave a review" button to motivate customers to leave reviews for purchased product. Also, with all typed reviews, consumers can find them in the "my product review" field.
Full features:
Review Summary Section
Admin Reply
Extended Image Upload Settings
NEW | Email reviews reminder
Filter reviews by star ratings
NEW | Show top rated reviews on any page
Pros and Cons
Was this helpful' thumbs-up
Improve SEO – get higher ranking positions
'Write a review' button in the reviews section
3. Detailed Product Review For Magento 2 | Mageworkshop ($79.99) 
The third candidate on this array is the Detailed Product Review Extension developed by Mageworkshop. Like the first two extensions, this module is another favorable module to create trustworthy and valuable product reviews. Furthermore, It not only helps to get more ratings and reviews but also boosts your traffic and enhances the interaction of the customer with your Magento 2 store.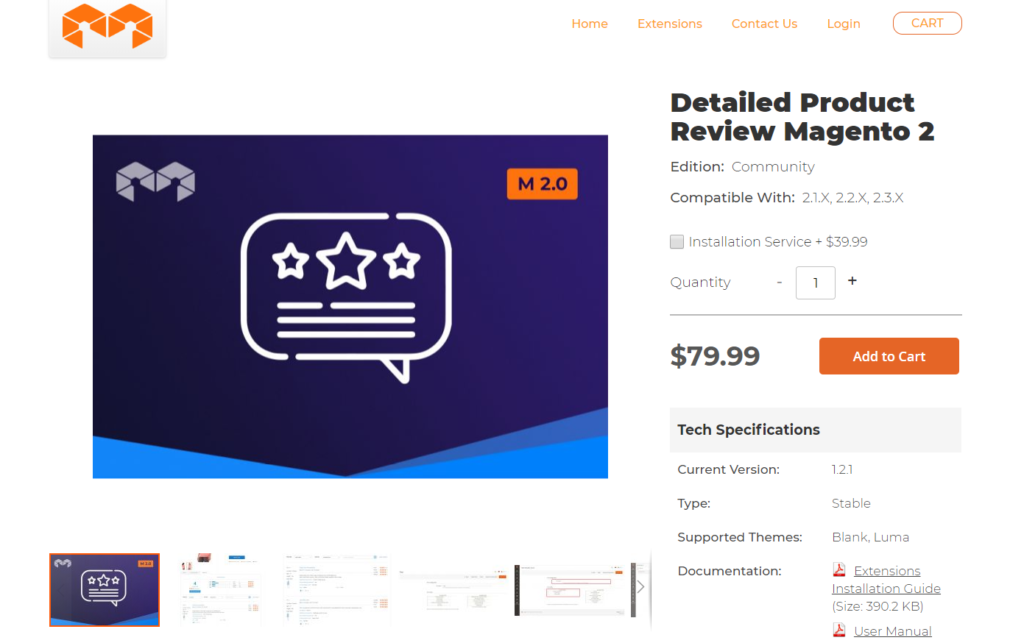 Mageworkshop Detailed Product Review Extension for Magento 2 provides abilities to:
Create and add custom fields to the review form
Upload images to the product review
Create a review form per product category
Create a product star rating
Respond to customers' reviews
Share a review on social networks with one click
Set improved UI/UX of the product review section
Use SEO module
Set up which groups of customers can write reviews
Enable a Verified Buyer icon
Protect your product review forms from spam with the Akismet module
4. Advanced Review for Magento 2 | BSScommerce ( $79 )
Another one I want to mention in the topic is Magento 2 Advanced Review Extension by BSSCOMMERCE. The module will enhance the item reviews field and enable ratings functionality of your online store.
The Magento 2 Review Extension will make you surprised with oustanding features for clients. A number of consumers who just silently read reviews but don't have free time to leave one. This is the reason BSScommerce creates the voting function to express the review helpful or unhelpful. This way is really useful to boost the interaction from clients. Besides, you can also share impressing feedbacks via social networks.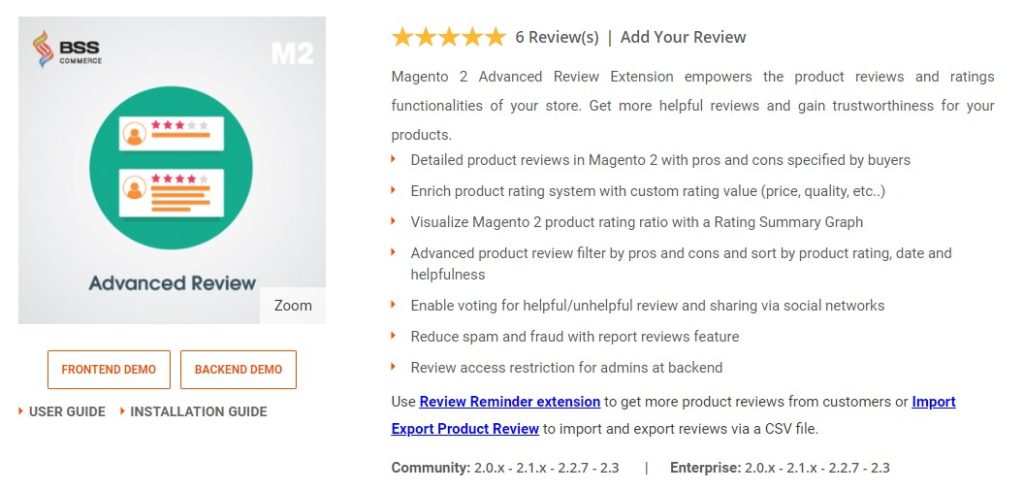 Outstanding features:
Detailed product reviews in Magento 2 with pros and cons specified by buyers
Enrich product rating system with custom rating value (price, quality, etc..)
Visualize Magento 2 product rating ratio with a Rating Summary Graph
Advanced product review filter by pros and cons and sort by product rating, date and helpfulness
Enable voting for helpful/unhelpful review and sharing via social networks
Reduce spam and fraud with report reviews feature
Review access restriction for admins at backend
5. Advanced Product Reviews for Magento 2 | MageAnts ( $79)
Advanced Product Reviews Magento 2 designed by MageAnts creates a flexible review system for your site that you can get a better vision of your products. The extension will be your good choice to push more purchases.
You won't have to worry about how to attract customers. The Magento 2 product reviews module will improve the review submission process very user-friendly and less time-consuming. The unique features in the module will aid you to create a dynamic environment for your store and clients also to rocket sales.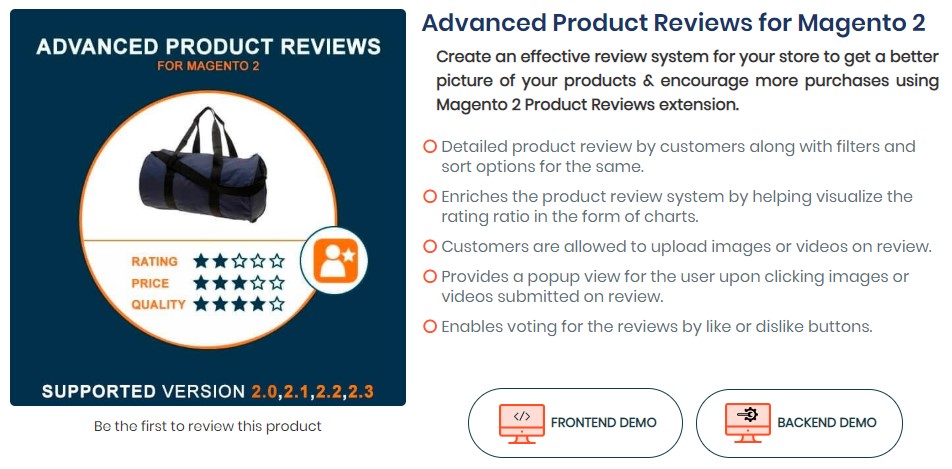 Full features:
Detailed product review by customers along with filters and sort options for the same.
Enriches the product review system by helping visualize the rating ratio in the form of charts.
Customers are allowed to upload images or videos on review.
Provides a popup view for the user upon clicking images or videos submitted on review.
Enables voting for the reviews by like or dislike buttons.
6. Better Product Reviews for Magento 2 | Mageplaza ( $119)
The last product in the collection you should aslo pay attention to is Advanced Product Reviews by Mageplaza. It supports an amazing method for reviews and ratings in your site. Customers won't meet difficulties in find item info via advanced reviews by previous consumers. This solution helps them get a better experience meanwhile admin can collect more useful reviews for the sales improvement.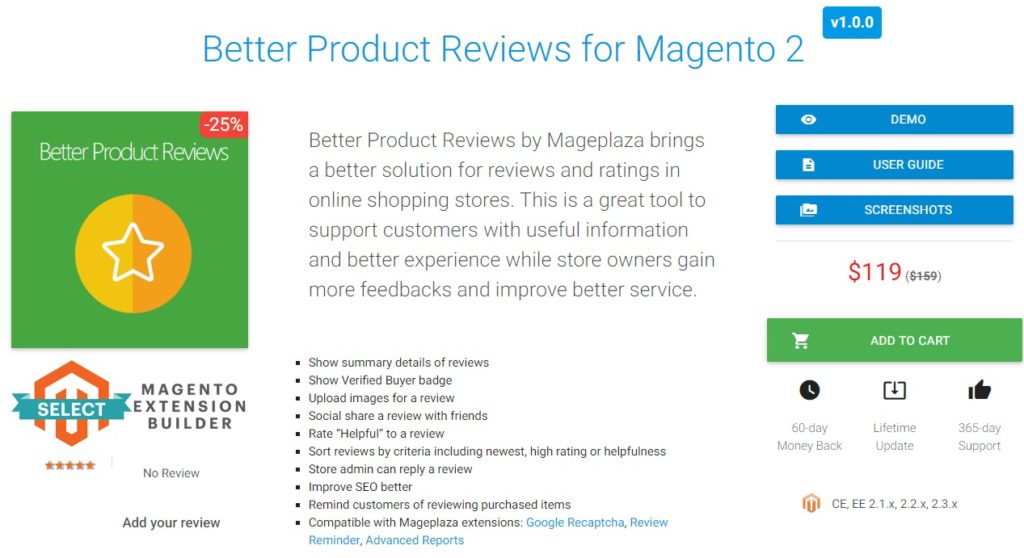 Hightlight features:
Hightlight features:
Show summary details of reviews
Show Verified Buyer badge
Upload images for a review
Social share a review with friends
Rate "Helpful" to a review
Sort reviews by criteria including newest, high rating or helpfulness
Store admin can reply a review
Improve SEO better
Remind customers of reviewing purchased items
Have you chosen an extension suitable with your demands yet?
Hopefully, the collection will satisfy what you are looking for to make your site better.
Full List Of Necessary Video Guide For Magento 2 Product Reviews
Don't hesitate to leave a comment below if you have any question, we are ready to answer always.
Other extensions you may be interested in
Related Posts