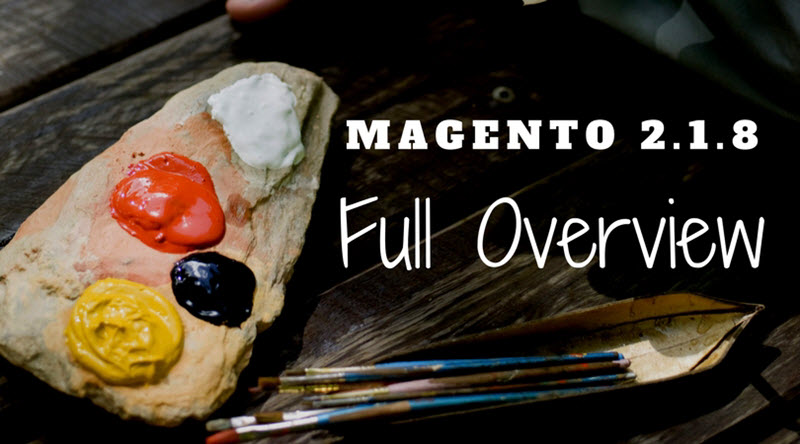 Nowadays, Magento plays an important role in creating online business, particularly Magento 2.
But how can we actually use it in life and make it become a tool supporting online business?
That's why it is becoming more and more popular and is always updated to follow the world's development.
In this article, we will give you a full overview about the latest version of Magento 2: Magento 2.1.8. Through this blog, we hope that you will get a general comprehence about Magento 2.1.8.
I. Highlight
Firstly, we would like to identify the outstanding features of magento 2.1.8. Magento Enterprise Edition 2.1.8 contains over 100 functional fixes and enhancements as well as pulling requests from the community.  Look for the following highlights in this release:
Multiple enhancements to static content deployment and generation
Improvements to elastic search performance, indexing of large catalogs, cache tuning, and url re-writes
Reduction in the amount of memory that mass actions require, and performance optimization
Faster cloud deployments for multi-language sites
II. Enhancement
Here, we are presenting the development of the latest version magento 2.1.8 comparing to the previous versions. Today Magento announced the release of their Magento 2.1.8. This new version features many upgrades which include:
| | |
| --- | --- |
| Version 2.1.8 | Previous versions |
| Create a custom category attribute with custom image for each category. | You could create the attribute, but not save the image. |
| Displays product information after performing an operation on more than one item. | Product information was not correctly aligned on the page. |
| Displays custom options at the store view level | No |
| Currency switcher now works for widgets on the home page. | With the multiple currencies website, the currency switcher did not update the currencies for widgets on the home page. |
| Accurately displays the total count of products on the Category page. | No |
| When deleting an image in the admin panel Magento no longer deletes it on the server. | Magento deleted it from the server as well, which caused errors for other products. |
| Displays only the price for product for the store view level. | The category listing page showed the default store view price. |
| Displays the product image even when product_image_white_borders isn't enabled in the theme. | Magento displayed a 404 instead of the image. |
| The product attribute category_ids only has Global scope. | You could change the scope value of category_ids to store. |
| The Use Default URL Key setting now works on the store-view level. | No |
| Displays the correct image when switching between a configurable product's options. | Magento loaded product images from a different product. |
| The ability to set an SKU mask to empty. | When a product SKU mask was set to empty it resulted in problems in loading the Product Add page. |
| Save product without checking any of its attribute values. | When saving product, attribute values remained checked. |
| Magento now correctly assigns images to duplicated products. | Create a blank attribute option using the drop-down input option on products that do not require an attribute. |
III. Requirements
The latest version magento 2.1.8 system requirements include required software to run the Magento application, supported web browsers, and also recent requirements to securely connect with our software repository and with PayPal.
See the following for more detail:
IV. Installation
1. Download File
Magento 2.1.8 download:
2. Download Sample Data
You can now successfully install Magento with sample data:
V. Themes and Extensions
In this part, we offer you:
54+ Upgrade Magento 2.1.8 Extensions and Templates
40+ Superb Magento 2 Theme | Awesome Design & Free Page Builder Module
10+ Best Marketplace Multivendor Magento 2 Themes
Top 3 Vintage Magento 2 Themes
Top Most Responsive Free Magento 2 Themes
Best Magento 2 Shoe Themes 2017
Top 10+ Most Modern Magento 2 Themes
Top Best Magento 2 Clothing Themes
Top 5+ Best Magento 2 Luxury Themes
Best Magento 2 Marketplace Themes & Extensions | Landofcoder
Top 10+ Best Magento 2 Multi Vendor Extensions | Powerful Marketplace Modules
Top 10 Magento 2 Multistore Themes
Top Lastest and Premium Magento 2 Restaurant Themes 2017
VI. Free themes and extensions
Let's have a look at these blogs to get free magento 2.1.8 themes and extensions:
Top 10+ Magento 2 Free Themes and Extensions
5+ Free Magento Customization Service & Best Magento Themes
57+ Best Magento 2 Free Extensions
10+ Best Magento 2 Free Themes
Hopefully, with the overview we presented above, you will have a general understandings about the latest version magento 2.1.8.
We will gradually update the latest information about magento especially magento 2.1.8 to fulfill this article. Follow us and give us your comments.
Related Blogposts You May be Interested In:
Related Extension on LandOfcoder you may be interested in: