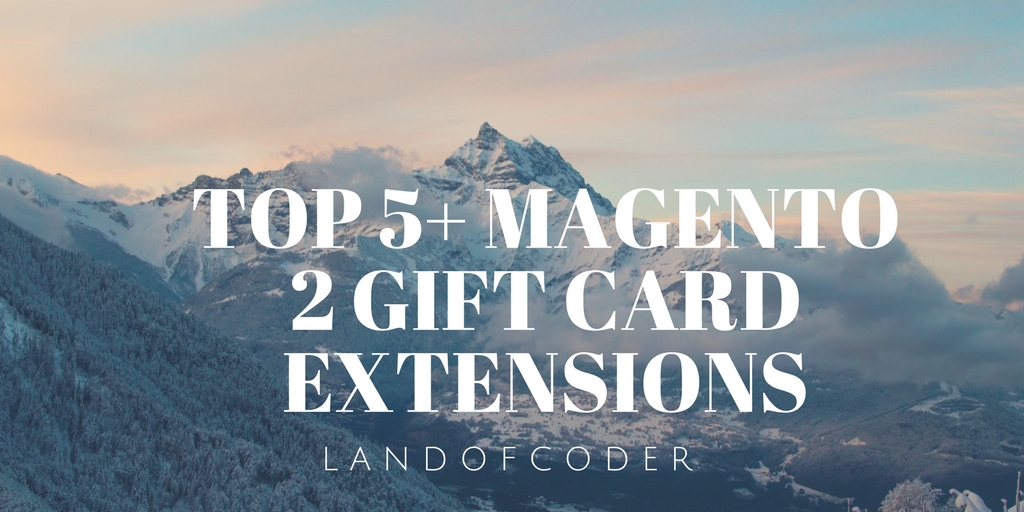 If you are looking for a flexible tool for crafting the best gift card extension that will match your specific business model and customer mindset, here are what you virtually want.
In this list, 5+ best Magento 2 Gift Card Extension shortlisted from hundred ones in the market.
These most suitable extensions are picked up carefully by Landofcoder Magento Staff. It will be very time-saving for you to conclude what is the best for your website.
5+ Best Magento 2 Gift Card Extensions
Provider
Review & rating
Highlight Features
Description
Demo
Price
Details
Amasty
5 – 4 reviews

Create gift cards with fixed or open amount price types
Easily generate and upload gift codes
Send gift certificates via email or post office
Keep track of all purchased gift cards
Offer stunning gift card templates

Enable customers to buy gift cards and send them to friends via email or by post. Create an unlimited number of gift cards with different pricing models and easily keep track of all purchased certificates.
Frontend
$211.00
Details
Magestore
4,9 – 4 reviews

Choose among 3 default templates for eye-catching Gift Cards
Create unlimited Gift Cards with different values from prices
Flexibly set price with 3 options: fixed price, price range, or price dropdown
This module works well with most themes, templates & checkout pages (quick support if needed)

Magento 2 Gift Card extension helps build a powerful gift cards/certificates system for your Magento 2 store to let customers buy gift vouchers with or without discount, send them to their friends via email/post office or simply use them.
Frontend
$259.00
Details
Aheadworks
5 – 5 reviews

Physical/ virtual gift cards may be added to the catalogue
Custom design choices may be created and offered to the customer
Personal message may be written by customer upon purchase
Gift cards may be delivered by admin straight from backend
Gift code grid added for backend tracking of all issued cards and their usage
Live support and documentation available within the extension
NEW! Magento API support

A flexible tool for crafting the gift card that will match your specific business model and customer mindset.
Demo
$399.00
Details
Mageplaza
97% – 3 reviews

Clean and eye-catching design
Design gift cards with ease by drag and drop
Delivery via SMS, emails, mail
Buyers can personalize their gift vouchers
Mail, Print at Home, eGift cards
Support Gift Message
Export Gift codes to use offline
Easy to install and customize

Using a Magento 2 Gift Card extension will be helpful for online stores this holiday season. It allows admins to create Gift Card samples and configure them with ease. Beside this, electronic gift certificates can be personalized by users and more interestingly, they can be bought with much lower price. As a result, this motivates gift voucher users to buy more. Furthermore, Gift Card extension can help store admins manage gift codes, discounts, gift card usage and other gift card features.
Frontend
$129.00
Details
Mageworx
4,7 – 10 reviews

3 gift card types (email, print-out, mail)
Generating gift card codes in bulk
Support of Multi-Store SetUp
NEW Gift cards for Customer Groups
NEW Flexible pricing scheme & values (fixed, prices drop-down, selectable custom price)
NEW Expiration Alerts
Gift cards usage stats
Full back-end control.

Optimize the gift-giving process big time. Quickly generate various types of gift certificates and let customers use them in a flexible way.
Frontend
$149.00
Details
These information is summarized by Landofcoder Magento Staff. It will be very helpful for you to get the best Magento 2 Gift Card extensions for your site.
These best magento 2 GIFT CARD extensions are ranked based on below criteria
Customer's Rating review
Our experiences on product demo
The price, features
Social Popularity: Facebook, Twitter, Linkedin, Google+
Google Ranking
Compatibility
Provider credibility
some other extensions you maybe interested in SOME OTHER EXTENSIONS YOU MAYBE INTERESTED IN
related posts