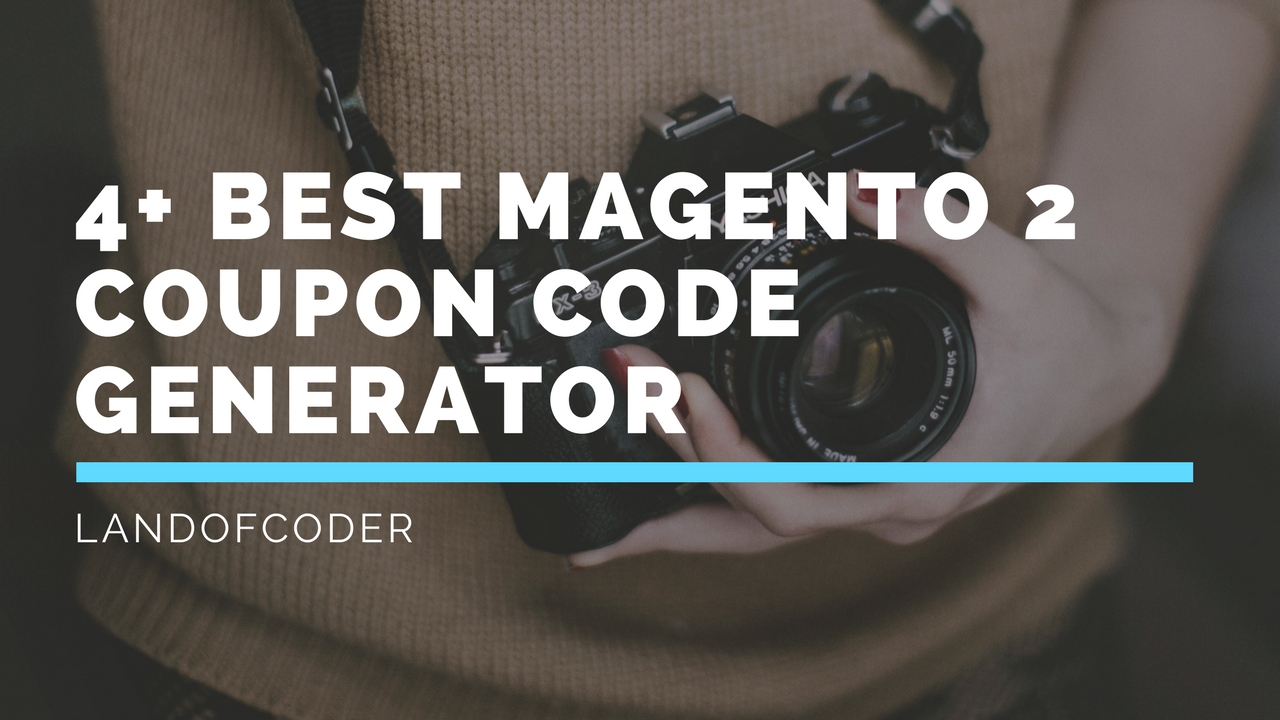 Why do stores often give coupons to discount for their customers? It is said that providing coupon code is a great way to attract the customers and increase the customers' loyalty. Therefore, in this collection we will offer you 4+ Best Magento 2 Coupon Code Generator Extensions. Based on a range of criteria, the comparision may help you make a precise and reasonable decision.
 Provider
 Rating & Review
              Description
            Highlight Features
 Demo
 Price
 Detail
 Landofcoder
 96%-3 reviews
Coupon coders generator extension for Magento 2 is a flexible tool to generate the coupon codes via email templates, variables and rules and send to a particular customer group in the blink of an eye. What is more, it supports sellers in tracking the sales campaign as well as managing coupon.
When installing Coupon code Generator, store owner firstly create a set of rules which are used to generate coupon codes with pre-defined attributes. then, proceed to generate the coupon codes and the last work is delivering them to the customers.

Generate Coupon Code Automatically
Mass Action To Save Your Time
Include coupons into emails, newsletters, follow up email with ease
Coupon Condition: Get coupons automatically
Coupon status and Coupon info
Edit coupons easily

Insert coupons & coupon information into emails instantly
Import promo codes in bulk
Export coupon code with ease
Track coupons usage statistic
Integration with Follow Up Email
Easy To Configure
API support ( coming soon)

 Demo
 $149
 Detail
Aheadworks
 100%-4 reviews
To start working with our Magento 2 Coupon Code Generator an administrator must create a few rules (at least one), according to which coupons will be generated. Next, coupons may be created in a number of ways. They may be created and delivered to a selection of customers via mass action, created individually and delivered to any email (whether a customer or not), and inserted into newsletter or a follow up email via custom variables.

Coupon creation options
Responsive expiration date
Email variables
Coupon conditions
API support
Custom code format
Usage stats
Support
Unit tests included
Integration with Help Desk Ultimate

 Demo
 $199
 Detail
Amasty
100%-1 review
Looking for an effective tool to make coupon management process as easy as it can be? With the Generate and Import Coupons extension for Magento 2, you'll be able to create, import and export thousands of promo codes in seconds. Quickly generate multiple coupons per cart price rule with the help of a handy customizable template. Keep all the coupons you create over total control due to automatically generated code usage reports. Share coupons with affiliates and sales representatives to drive more customers to your website and boost sales.
Speed up coupon generation process

Create multiple coupons per cart price rule
Import promo codes in bulk
Customize templates for promo codes creation
Edit coupons more easily

Work with groupon-like websites and affiliate

Track coupons usage
Export promo codes

Demo
 $189
 Detail
Mexbs
100%-4 reviews
Give your customer one coupon code for multiple coupons!

Lifetime support
30 days money back guarantee
100% open source

 Frontend
 $69
 Detail
These information is edited by Landofcoder Magento Experts. It will be very helpful for you to get The Best Magento 2 Coupon Code Generator Extensions for your site.
  SOME OTHER EXTENSIONS YOU MAYBE INTERESTED IN
Related Posts