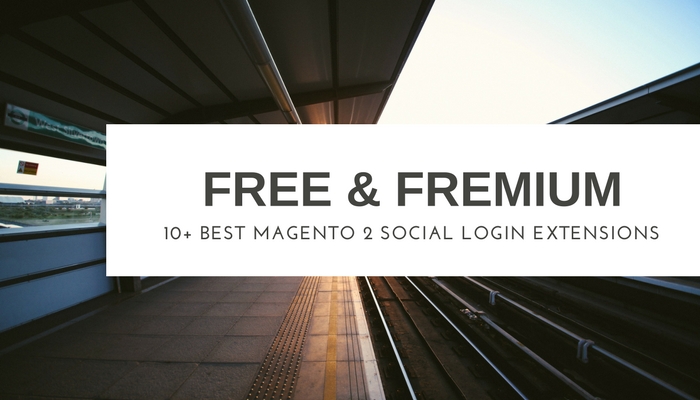 No one in this day and age can deny the development of social networking in our daily life, and e-commerce is the one greatly affected. With any social network account, customers can log in your website without complicated register steps as before. Thanks to that, your customers will find it easy to shop on your Magento store. And now, let's check top 14+ best Magento 2 Social Login Extension Free & Premium!
1. Premium Magento 2 Social Login | LandofCoder | $149 $99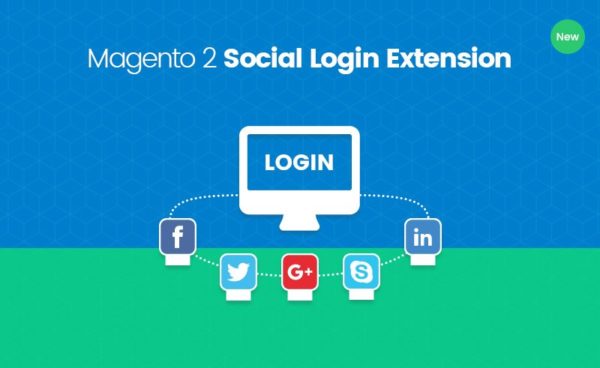 This Magento 2 Social Login Extension- best Magento 2 Social Login Extension Premium  offers a wide range of preeminent features that suit to your web page. Some outstanding can be named as the number of social networks it supports, more than 15 including most popular one such as Facebook, Twitter, Google, Linkedin, Vimeo, etc. Next, comes the conversion rates improvement. This feature helps you reduce abandon rate and increase customer's registration due to its rapid speed and convenience. And if customers don't like logging in via a social network, this extension still offers conventional standard registration at the same time.
Other feature highlights:
Quick AJAX login
Multiple styles & template
Popover login form, popup form with fancy box
Easy to customize
Collect rich customer profile data
Provide secure way to log in and register account
2. Magento 2 Social Login Extension| Free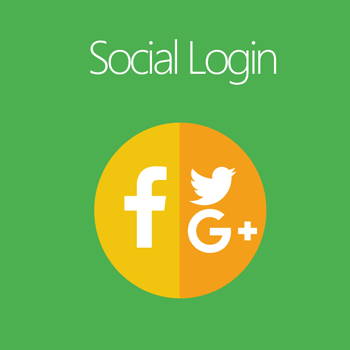 The Mageplaza's social login extension is one of best Magento 2 Social Login Extension free for download and ensures main features for this kind of extension such as supporting 11 social networks, updating customer information right when they register for their account and working fluently with layered navigation. Besides, you can use multiple stores in same Magento installation. Remember, there is no code encoded in this extension; you can custom functionalities as you wish as well as custom style and language files.
Other feature highlights:
Convert leads from Affiliate module to potential customers
Compatible with one step checkout
Easy to custom
3. Social Login Magento 2 | $199

Just by one click on a preferred account among 18 types of social accounts, customers will be done with registration. For a most eye-catching page, you can put the social login bar in different positions. In addition, this extension requires a username and its password to log in for security purpose of the social account. One thing should be kept in your mind is that its license certificate is valid for 1 live Magento installation and unlimited test Magento installations.
Other feature highlights:
Change the order of social login buttons in frontend
Allows customers to choose to register a new account as normal
Responsive Magento Social Login extension
User-friendly interface
4. Magento 2 Social Login Extension | $249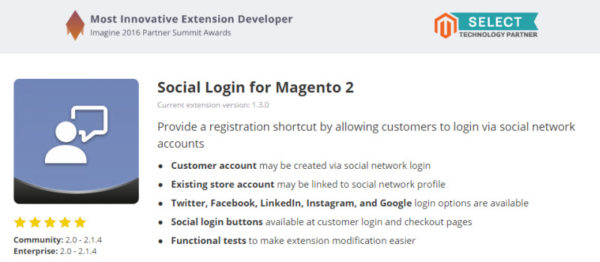 In this Aheadworks's extension, your customer will select login pages with default options including login, registration, shopping cart and checkout pages. Also, it helps to link existing account; this means that a customer has an option to add social network account to his existing customer account. And the extension documentation and customer support are accessible from within the extension.
Other feature highlights:
Social account data
5 popular types of supported social networks
Functional tests
5. Twitter & Facebook Login Extension for Magento 2 | Plumrocket | Free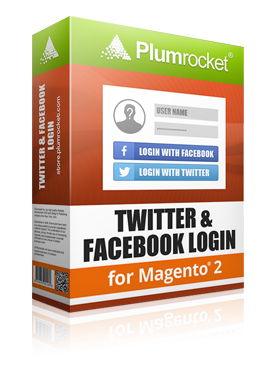 This open-coded extension is free of charge to Twitter and Facebook customer accounts. You can also upgrade to over 50 social login networks with Social Login Pro Plugin for Magento 2 ($149). This extension creates a promotion for customers to share your website with their friends by giving them reward points. It also provided a secure way to log in and register account without saving user password at Magento store and then avoid issues with incorrectly entered email address y retrieving verified emails from a social network.
Other feature highlights:
Personalize user experience with customer photo
Collect rich customer profile data
Improve conversion rates
Compatible with custom & third party Magento themes
6. Social Login magento2 extension | Codecanyon | $28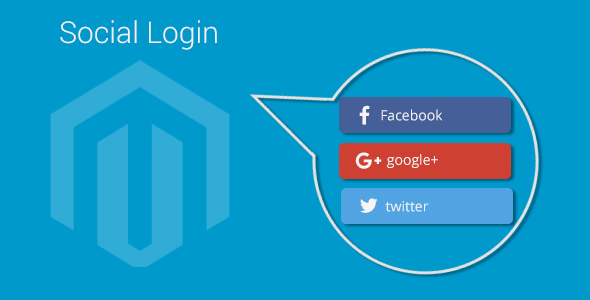 This extension introduces basic features including one-click user account registration, friction reduction for repeat social login, security improvement and trust increase by using social sigh-on. It also offers the ability to send newly created account details to the user's email as well as set custom redirect URL on which user will get redirected after they log in with social media.
7. Social login | Iwdagency | $99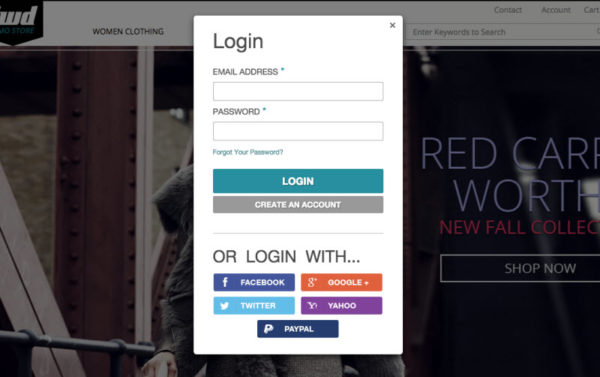 Both logging in via social networks and standard Magento login is available. Using this extension, shop owners have a chance to customize pop-up by uploading logo or image, it also includes CMS content block. Then, you can add CAPTCHA to login in different actions such as logging in, forgetting password form and create an account form.
8. Social Sign Up For Magento 2 | Webkul Store | $39
Using this extension, you can manage settings for social networks on the backend such as App ID, secret key, etc. Also, it is compatible with a multi-store and its code is fully open and you can customize it according to your need.
9. Social login | CED Commerce | Free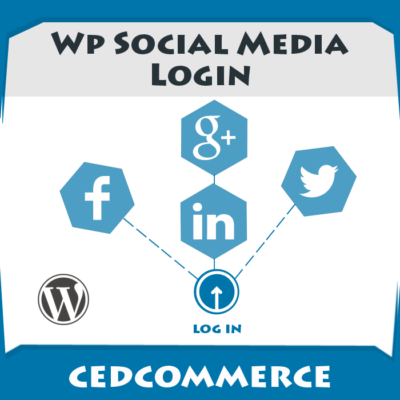 This extension- one of Magento 2 social login extension free comprises main features such as one-click login/register, easy configuration settings and allowing customers to log in Facebook, Twitter, Linkedin, and Google. Besides, this extension has a user-friendly interface with multi-language support.
10. TM Social Login Magento Extension | CMS Template | $129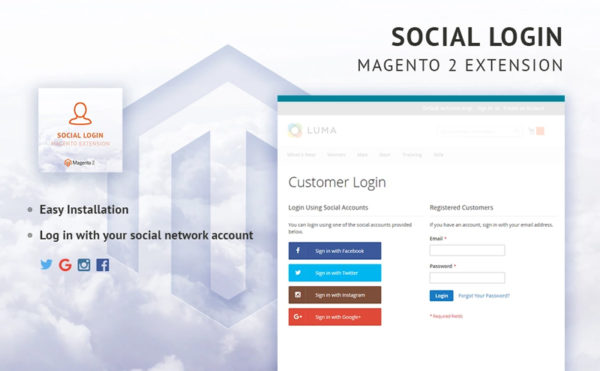 11. Social Login and Share | Magenest | $50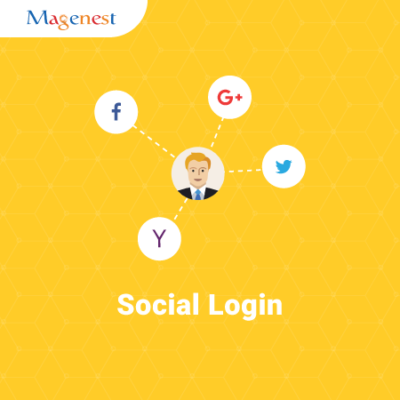 The Magenest's extension offers both full features for admins and customers. To admin, they can set the application for each social network including Twitter, Facebook, Google+, Linkedin, Pinterest and Instagram. To customers, this extension allows choosing one among up to 6 those types of social accounts; sharing products on their social networks and using a Facebook account to comment on the Magento 2 stores.
12. Social login Magento 2 | Magesolution | $39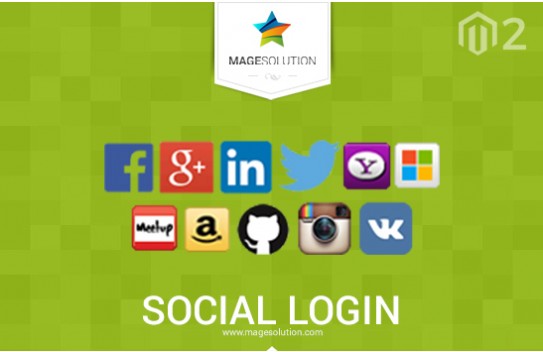 The extension is introduced by Magesolution empowers your online store with other Magento 2 extensions by MGS such as Mega menu, Banners, Shop by Brands and etc. Besides, it includes core feature of a social login extension such as login/sign up with one click, 3 types of a ssocial channel (Facebook, Google, Twitter) and user-friendly interface for configuration.
13. Ajax social login | Bsscommerce | $59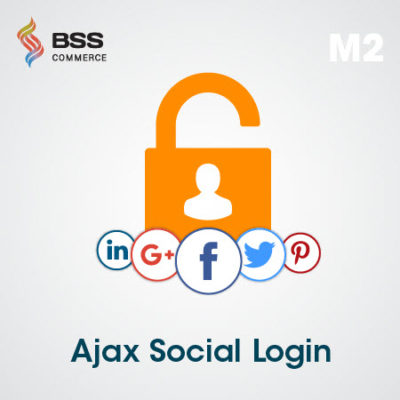 Among lots of social login extension for Magento 2, the Bsscommerce's is the one should be on the considered list. It contains many useful features such as speeding up login process of customers, increasing traffic and engaging your site and avoiding spam accounts and false information from customers. Furthermore, it allows users to add reCaptcha into login and register process.
Other feature highlights:
Freely choose the page redirected after login
Support unlimited social accounts
Customized the position to place social login block
14. Magento 2 Social Connect Extension – Magento Social Login | Magebay | $69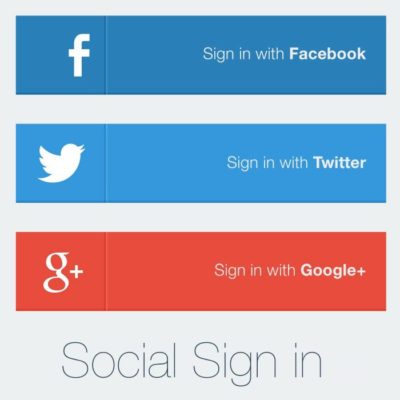 This extension meets the need of both admin and customers' need. Customers can choose among up to 5 types of social accounts to log in, and then the system will automatically use the information from their social account to log in. Admin can change the order of social login buttons in frontend and put social login bar in different positions.
Here are all best 14+ Magento 2 Social Login Extension Free & Premium you should get to improve for your Online Store. In case, you would like to other Magento 2 Extensions, please view more:
Related Extensions you may interested in