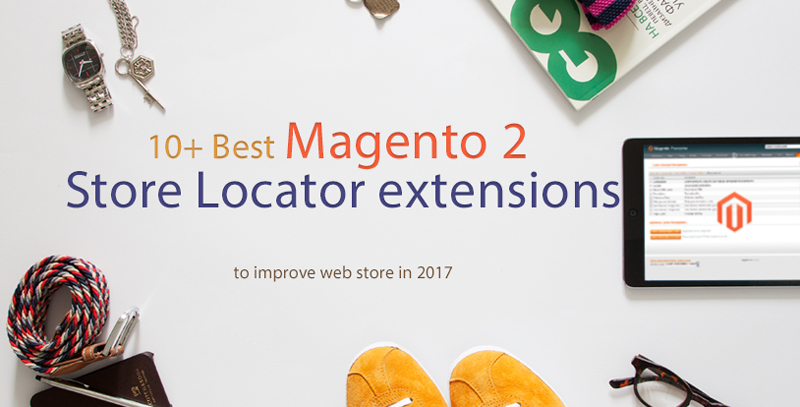 Searching for the store is a fundamental step for customers to purchase on your store. One of the most confused questions to online shop owners is the store location. Therefore, the introduction of store locator extension for Magento 2 is the key to solve that problem. In this post, I'll show you 10+ Best Magento 2 Store Locator Extension free & premium.
1. Magento 2 store locator | Landofcoder | $199.00 $68.00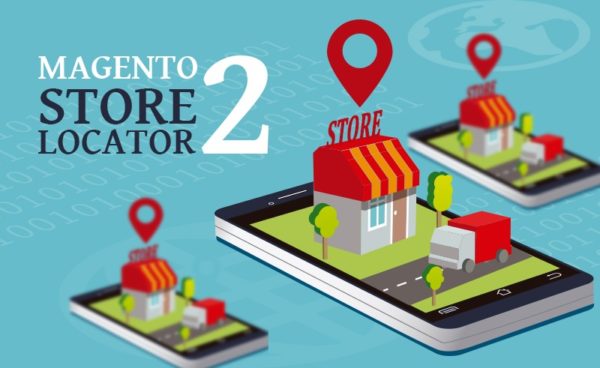 This extension – one of the best Magento 2 Store Locator Extension Premium is highly appreciated by its user thanks to its easy installation and configuration. Besides providing you with a wide range of excellent features such as showing store locations with a nice and neat user interface, helping customers to search stores easily in various ways with tag, address, distance, store name, zip code, etc. And now, with the efficient support of Google map and GPS, your customers can even search by their current location, when visitor access to your store locator page, this extension will automatically use their current position to search the nearest store. That is the reason why you should experience this extension.
Other feature highlights:
Showcase store's information in nearest and clean layout
Show store direction
Get store's details by one click
Display featured product in store detail
Social networks integrated
Import store locations by CSV/Json file
2. Store locator v.2.0 | Belvg |$79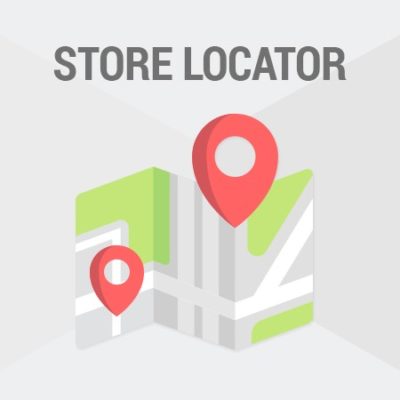 Only by minor steps, your customers will easily find out your store location and other information. The user location is detected automatically; all links and map markers transfer to Google map. This will help your customer to select from when looking for the nearest shops in their neighborhood. Then, it also helps to import all your shops into the module from a CSV file or add them manually.
Other feature highlights:
Display store preview and description in search results
Show exact distance and provide route directions to the selected stores
Export all your shops from the module into a CSV file
3. Magento 2 store locator | Mageplaza | $199 $149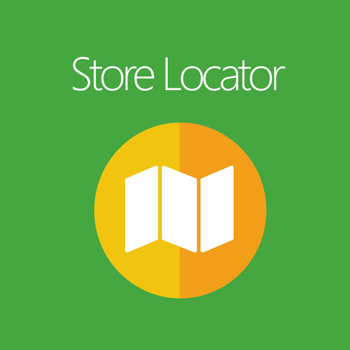 This extension makes full use of Google Map and GPS integration. Using it, admin can help their visitors to search for store nearby or any of your stores. Besides, they can upload unlimited maker icons and custom store locator color in configuration.
Other feature highlights:
Store contact's information
View store images, street view
Display distance from visitor's location to each store
Easily to add/edit/delete store detailed information
Set store's open time and days off flexible
Support multiple stores/languages
4. Store Locator for Magento 2 | Amasty | $199.00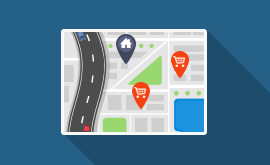 With a couple of clicks, customers can see the list of locations sorted by position. Using this extension, you can allow store's visitors to specify the search radius and distance units. In addition, the Amasty's offers an advanced tag functionality for a proper store filtering such as parking availability, payment methods, brands, ATM availability, etc.
Other feature highlights:
Assign products to specific store locations
Use map clustering for neighbored stores
Preview locations on the backend map
Specify geographical coordinates
Customize locator page
5. Magento 2 store locator | Iwdagency | $199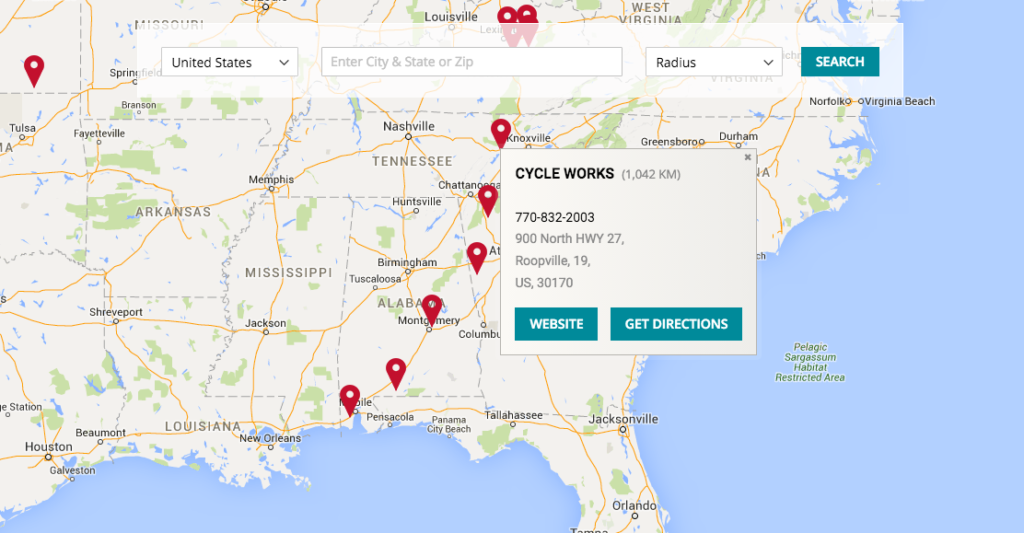 The Iwdagency's extension includes a lot of noticeable features that both shop owners and customers can experience. Firstly, it can help to activate the store locator extension and specify the title that appears on the page and as the meta title.  Secondly, it takes advantage of Google map configuration maximally in entering serve key if you would like to identify user's current location and locate locations nearest them. Then, you can do many things to manage search as well as adjust the design.
Other feature highlights:
Adding new locations
Creating a new location
New location images
6. Magento 2 store locator | $249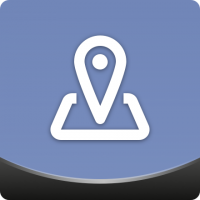 This extension helps to set up location, you'll find the exact location on a Google map and setup a preferred map zoom for frontend display. You can also pick a spot or let Google find your current location and search a custom radius around it. Furthermore, there are upcoming features which are expected to give you more convenience such as store location type and importing data from CSV.
Other feature highlights:
Store details
Radius search setup
Address search
Interactive map
7. Magento 2 store locator extension | Magesolution | $59
This Magesolution's extension allows shop owners to enter address or latitude and longitude to get the location on the map or click on the map to choose a location. Also, you can show Store Locator link on top links or not and change the title of a top link for the greatest convenience. To customers, the extension lets them view full store list with custom pin icon on Google map and switch view mode seamlessly between map and satellite.
Other feature highlights:
Search by different criteria
View full stores list with custom pin icon on Google map
Set store's open times and days off flexible
8. Magento 2 store locator | Magebuzz | $79.00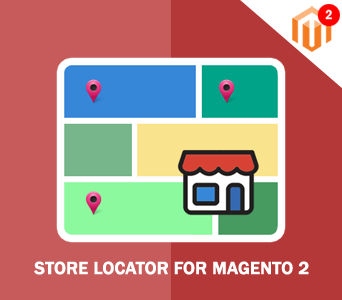 The Magebuzz's extension provides necessary features for both customers and store owners. It offers major features needed for customers to help them find the nearby stores rapidly, get instant and clear direction to a chosen store, get necessary information of each store, etc. To store owners, the extension lets them present store's location in a fully responsive map, manage store list effectively and set varied demonstrated images for stores
Other feature highlights:
Present stores in a responsive map
Automatically get users' locations
Display many search suggestions
Filter stores by descriptive tags
Upload a default icon for all stores
Set up varied search radius ranges and default radius
9. Store locator | Magearray | $99

Magearray's store locator extension allows creating as many store locations as you want and displaying them on a separate page or single page using Google Maps. Also, it gives your customers convenient single –page locations list, street view and then quickly find the nearest store. You can set zoom level and map radius per store and also able to set zoom and center location from the configuration.
Other feature highlights:
Embedded interactive map
Show location, contact details, trading hours and store images
Map and satellite views
Full Google map integration
10. Store locator Magento 2 extension | Codecanyon | $23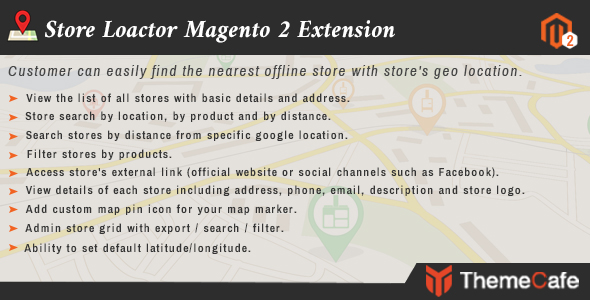 This extension enables you to add an address of physical retail stores to the website. It gives customers to exact store locations on Google map to enhance their shopping experience. With basic features of a store locator extension, it can help customers to view the list of all stores, store search by many criteria or by distance.
Other feature highlights:
Access store's external link
View details of each store
Add custom map pin icon for your map marker
Admin store grid with export / search / filter
Ability to set default latitude/longitude
11. Store Locator | Pti Web Tech | Free
Using this Magento 2 Store Locator extension free, you can create an unlimited number of locations of your stores. By that way, your customers will find it easy to get your store's address by any of its information. Meanwhiles, they also can refine their results by specifying a radius.
Other feature highlights:
User-friendly code
Go to the store URL by given link
Display via CMS page & block
Record Import/Export via CSV
Related Extensions you may interested in