As you know, the process of design a series of questions is time-consuming and causes a headache for each designer. And now, get rid off worry, please! Because we have 1 important support tools – FAQ- is supported to you effectively. In terms of this blog, we will disclose clearly about Magento 2 FAQ extension. You may feel our enthusiastic and patiently to catch your desire.
Firstly, the reason for this choice is its convenience. Why did I say that? Because Magento 2 FAQ extension helps to set up nice informative & SEO-friendly Magento FAQ page. Advanced best Magento 2 FAQ extension also allows you to create a list of frequently asked questions on product detail page.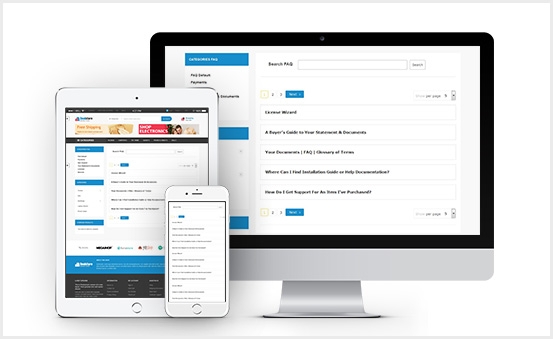 Secondly, by powerful Search Tool Give Exact Results, it is a crucial suggestion tool whenever you remember or not.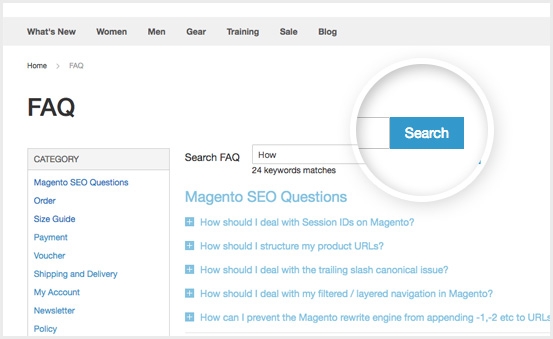 Thirdly, in virtue of showing numerous frequent asked questions on the top page, you easily to choose exactly your need question. In addition, your customers can deal their problems themselves. It means that your site can save time and money to create the range of question in the most effective way.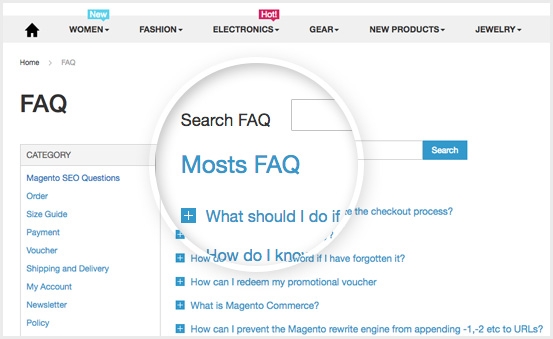 Fourthly, thanks to showing FAQ on Product Page, customers can add questions to any product page they want. So we are proud that these amazing features are only provided by our FAQ extension for Magento 2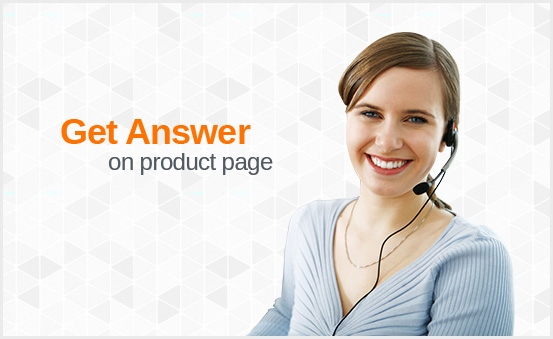 Besides, it comes with a strong other function. Such as: Easily Create Unlimited Topics & Categories on the backend, Easily Add Question With Nice Popup, View answers with Expand/ Collapse feature, Multiple Layouts & Styles.
Fully Outstanding Features:
Fully Mobile Responsive
Display FAQ on any Product Page
Place Most Frequently Asked Questions at The Top of FAQ page
Change Position of FAQ & Categories Flexibly
Highly Precise Searching Results
Neat FAQ page with Expand or Collapse
Awesome Ajax Live Search Tool
Create Unlimited Topics & Categories on Backend
Attach Link For Specific Keyword
Ajax Submit Popup Form
Multiple well-organized faq layouts
Display Most Viewed or Newest FAQ widget
Easily Customize Font Size, Text, Background & Border Color
Distribute Questions & Answers Into Various Categories
Optimize SEO for faq page
Manage FAQ page simply from Backend
Add Unlimited Questions
Well-arranged Questions
Change Question Icon easily
Various Animations Effects Supported
Add Multiple Question Tags
Vote Like or Dislike for Questions
Integrate Most Popular Social Networks
Import/Export Data fast
Show Related Questions for convenient search
Suggest Related Products Systematically
Support ReCaptcha Against Bots & Spams
Compatibility: Magento 2.0.x – Magento 2.1.x – Magento 2.2.0 – Magento 2.2.x – Magento 2.3.0 – Magento 2.3.x – Magento EE 2.1.x – Magento EE 2.2.x
Notably, when buy this Magento 2 faqs extension, you can get 30 days money back, 12 months free support, life-time updates and free installation.
In conclusion, with above the reasons, I strongly summarize that our Magento 2 product FAQ extension becomes more attractive and larger and closer to our customers.
Crucial Video Tutorials
How To Install FAQ extension For Magento 2
How To Use Magento 2 FAQ Extension
How To Change FAQ Template
Related Magento 2 Extensions