If you are looking for magento 2 contact form, our visual magento 2 custom form builder is the best choice. We have updated magento form builder extension with new features based on customer's demand. Hence, now Magento 2 Form Builder offers you tons of functionalities that help you easily create contact form in particular and other type of form in general.
Magento 2 Contact Form New Core Features
>Â [NEW] FIELD CUSTOM HTML
Inserting HTML files has never been easier.
>Â [NEW] REPLY EMAIL ADDRESS IN MESSAGE
With Reply Email Address in Message Feature, you are capable of saving more time and effort in replying customer emails through the email form field.
Magento 2 Contact Form Powerful Features
>Â 100% Responsive On Any Devices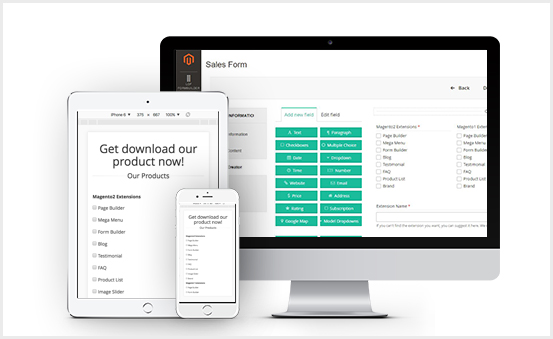 In the era of mobile shopping, you must concern about the responsiveness of your form. Understanding that, we offer you one of the best tool to create responsive form. With our magento 2 contact form, you can create any type of form responsively on different devices with high resolution: PC, Laptop, Mobile, Tablets.
Besides, thanks to the support of Bootstrap Grid System you can find it easy to create form layouts with a number of rows & columns. Moreover, the columns will be rearranged based on screen size.
> Intuitive Drag n Drop Interface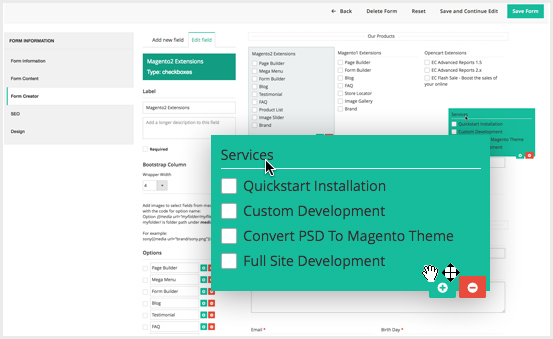 The next amazing feature that this magento 2 contact form bring you is Intuitive Drag n Drop Interface. No programming knowledge is required. It is easy for you to create content rich contact form with drag n drop editor.
> Visual Content Creator – What you see is What you get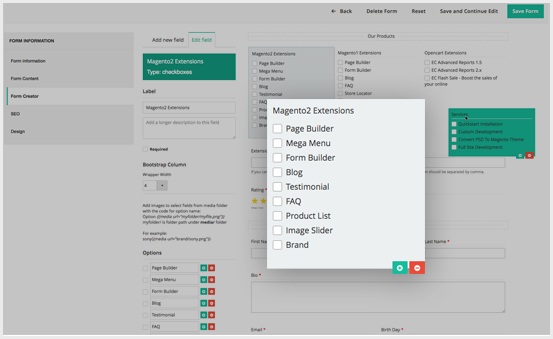 Forget about "Blind Design", you can create rich content form and see result instantly. There is no need to click on preview button too.
Multiple Field Types
There are plenty of Input Types including:
Text
Paragraph
Check box
Multiple Choice
Date
Drop down
Time
Number
Website
Email
Price
Address
Star Rating
Google Map
Subscription
Dynamic Dropdown
File Upload
Section Break, etc.
> Customizable form appearance 
With this feature, the users will feel at ease when customizing. Surely no troubles happening when you are adjusting layout, text, number, percentage, field types.
> 14 pre-made form templates
With hope of making things a piece of cake, we've developed up to 14 form templates containing various styles for your convenience. Contact form, hotel reservation form, order form, sales form, volunteer signup, employment form, feedback form, warranty registration form, etc. all are included.
>Â Add new option: Custom template
With just one manipulation of inserting custom template file path as the featured image, you can add your custom form. You can also add as many forms as you want too.
>Â Before Form & After Form
Before Form" content block, "After Form" content block, "Submit" button text, Message after successful form submission are also available for users.
>Â Recaptcha Security, Spam Protection
The go-along Recaptcha Security and Spam Protection are definitely the best ways for you if you want to protect your site from spam and abuse.
>Â Show Form In Any Position + Multiple Display Types
With the help of widget support, you can independently put forms in different position. By the way, display types like popup, animation, button link, show on current page are also ready for you to use.
>Â Customizable Layout with Bootstrap Grid
Easily to build any layout as you expect. With the support of Bootstrap Grid, you can divide column and block very easy
>Â Ajax Effects When Submitting Form
After customer submited their form, great Ajax Effects will appear that give usability and practicality as well as elegance
>Â Show Results With List
All results you get from participants will be collected and arranged in a neat & clean form.
Export Messages & Customer Data To CSV
Are you looking for a solution to export all customer data from your custom form to csv file. Let our magento 2 form builder help you
>Â Auto send THANK YOU email to all customer's email after they submit form
This extension allows admin to config at the backend to send thanks emails to all email friends in Form.
>Â Easy to manage black list via IP and email
Admin can manage backlist Email. This system allows admin to Block IP and Email. So your store can avoid spam emails. So it doesn't allow emails and IP address submit Form.
>Â Fast speed with Magento Block Caching
Your speed will get interrupted under no circumstances. The extension support Magento block caching that helps to speed up your site significantly.
>Â Free Installation Service
We offer a free installation service for this extension so that you can easily have it work properly on your website. Leave us a request to [email protected]
>Â Amazing Customer Experience With Us
And after all, customer satisfaction is still our overriding concern. Therefore, we always want to bring you support and help with all our heart.
More Features
Fully Compatible with Magento 2
Message Manager
Create as many forms as you wantSEO Optimization
Easy to save, manage and export form
Easy to duplicate forms
Automatic email notifications
Add to Any PositionCustomizable Layout with Bootstrap Grid
Ajax Effects When Submitting Form
Show Results With List
[New] field Custom Html
Fast speed with Magento Block Caching
Five Star Rating Field Type
Save, manage and export form submissions in the back-end
Easy to duplicate your forms
Support Form Widget – Add to Any Position
[New] Google Maps Field Type
[New] Upload File Field
[Hot] Avatar Upload
Editable Submit Button Text
[Hot] Dynamic Drop-downs Field Type
Video Tutorials
In case you need clearer instructions, these following video tutorials might be helpful for you. Let's Check them out!
How to Set up & Install Magento 2 Custom Form Builder
How To Install Magento 2 Form Builder Widget
How To Use Magento 2 Form Widget
Related Magento 2 Extensions