As you know, the payment process plays an extremely important step which determines whether the purchase is successful or not.
In order to help customers make their purchase fluently, in terms of this guide, I am strongly pleased to write a complete guide for Payment Method support and How to do. Let's view our detailed process:
At present, here is the list payment method we support on Landofcoder:
PayPal (Encourage)
Paymentwall (Encourage)
Other Payment ( Skrill (Visa, Master Card, JCB, Diners), Payoneer (Visa, Master Card, AMEX, JCB),
To describe the detail of payment method support on Landofcoder. Follow us:
Firstly, sign up or log in your Account
For example: Choose product: Magento 2 Blog Extension
On each product, Click on Add to cart button > View Cart & Checkout. At the checkout page: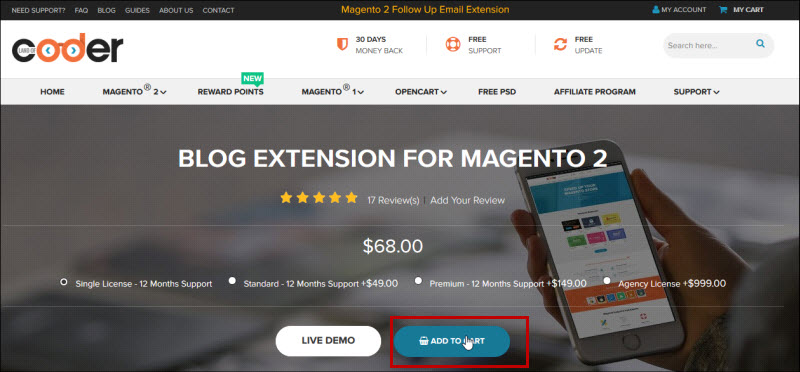 In case, the product on sale, you can enter the discount code at the empty box then apply it.
At present, on Landofcoder Site, we support the Select Payment Method. You will check out with:
Paypal
Paypal Credit
Proceed to checkout (Paymentwall)
Let's see the detail of each Payment Method:
Note:
Please make sure that you provide correct information to complete the payment avoid any unexpected troubles. Also, Sure that your account on PayPal or Skrill account or Credit/Debit card is sufficient money to check out.
I. PayPal Payment Method
PayPal payment is used for Visa, MasterCard, Discover, and American Express types. You can use the payment for PayPal, PayPal Credit, or PayPal Express Checkout.
Here is the list of purchase payment method, you can choose one of payment method:
Paypal
Paypal Credit
Paypal Express Checkout
Next, Choose "Checkout with PayPal or PayPal Credit or Proceed to checkout"
If you don't sign up/in your account, you can click here to get access: When completed, check again your account.
a. If you have a PayPal account, please log in to your account to pay.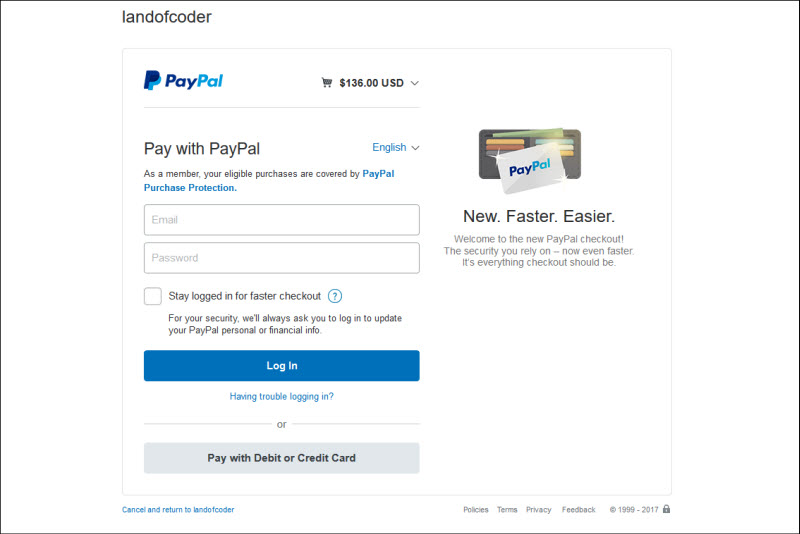 *** Notice: For customers from Turkey, you should select other payment methods apart from Paypal such as credit card/master card or Paymentwall local payment service.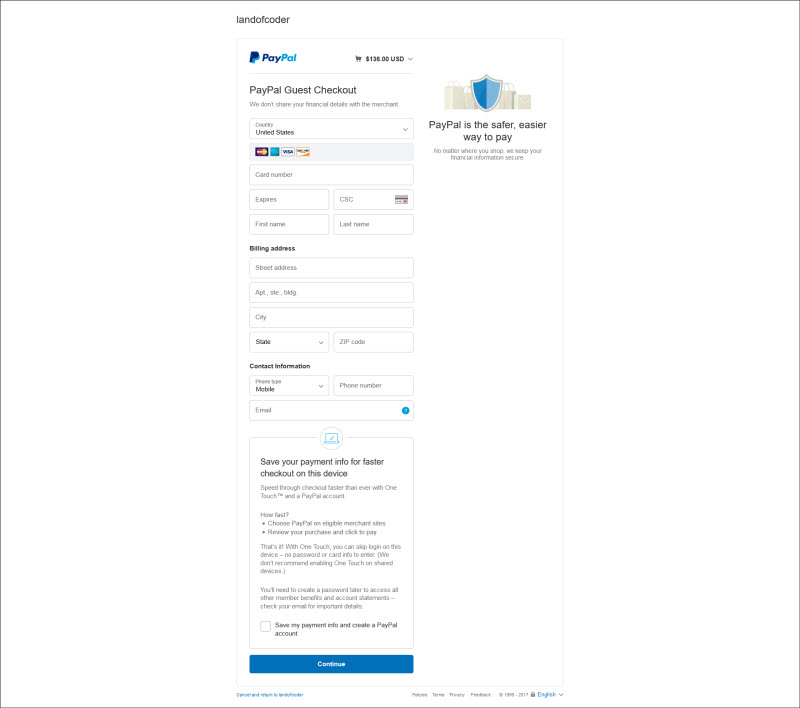 b. If You don't have PayPal account:
Stay calm! You can pay with your credit/debit card (Visa, MasterCard, American Express, and Discover) instead of Paypal Account. Simply enter your card's data directly at PayPal and complete your payment. You don't need to create a PayPal account either.
Once you get redirected to PayPal, just do as follows:
Make sure to select "Pay with a debit or credit card option"
Enter your card's data, Address, Email & phone number may also be required depending on your country. When you are done, click on "Continue".
After receiving the confirmation of your successful payment transaction, you will be navigated to Landofcoder.
In case you need PayPal's assistance, please click FAQ for Paypal
II. Payment wall Payment Method :
This is the second payment method we support on our site. Paymentwall local allows you to use local credit cards, e-wallets, bank transfers, cash payments, terminal payments, prepaid cards, and other non-credit card-based payment options to buy products at Landofcoder with following steps: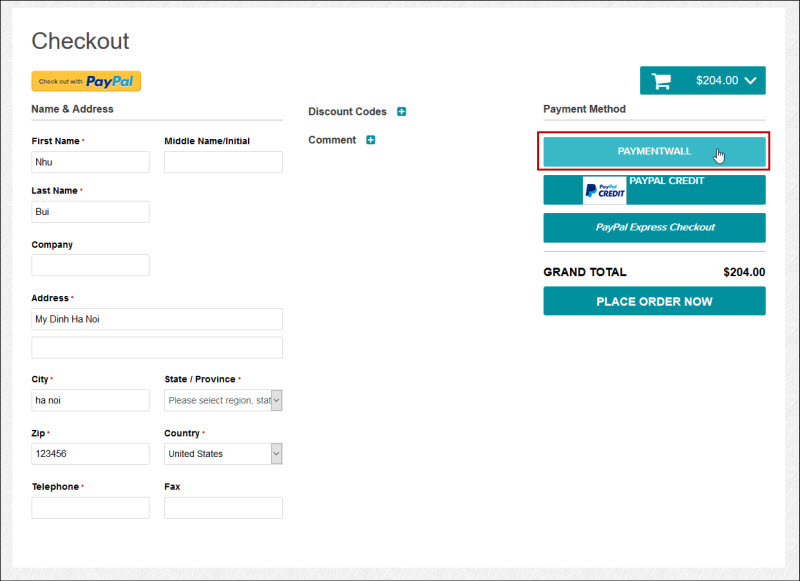 Select "Proceed to checkout" > Paymentwall > Select Payment Method: Choose Mint / VTCpay / Vcoin Card. Then select a package: click "MUA"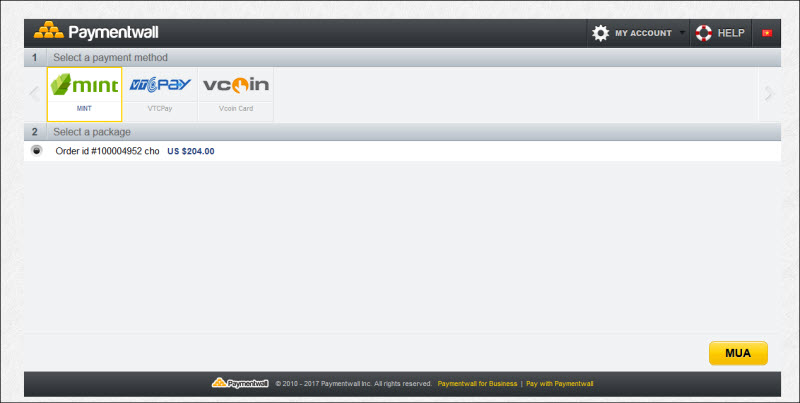 When finishing the process with local payment gateway, if your payment is made successfully, you will be directed to our Thank you page. Then you can go to My Order download then choose order download or your email to get the download link under anchor text.
III. Other Payment Method Support
On Landofcoder, we encourage you to make payments through PayPal, Skrill, and Onepay but in impossible cases, you can use other payments method instead.
Please place an order on Pending status (by getting out of the checkout process) on Landofcoder and notify us through email [email protected] or live chat on Landofcoder Site that you will use Skrill or Payoneer transfer to pay for that order. After transferring, it will be great if you can add our email address to the scanned confirmation from your bank. We will send product to you without any delays.
** Create Pending order on Landofcoder:
Only create your order on Landofcoder. No need to pay. This means you make the purchase without payment first.
Choose one of the following payment:
Skrill (old name: Moneybookers) is available for MasterCard, Visa, American Express, JCB, Visa Electron and Diner Club types.

Signup or sign in your account Skrill:
When you already have account, you can transaction your money to the [email protected] account.
When it completed to successful, please contact us through live chat on Landofcoder.com or [email protected] to inform your username, and your successful wire transfer purchase, we will check your order on our site and change it to complete status. After all, you can log in to your account and find my download. You will see all links to the file for download.
If you want to any support for Skrill Account. Check FAQ Skrill here
** Notes: Please take note that clients from the USA are not allowed to pay through Amex Card (American Express). Please choose another gateway instead.
Sign in/ up your account on Payoneer which links to your bank account. For your purchase, you can transfer directly money to [email protected]
In case, you need any help for Payoneer Online Payment, please view here:
If you have any problem with payment, please feel free to contact us through live chat on landofcoder.com or email [email protected]. We are willing to help you 24/24 with the earliest help without delays.
Thank you for your following.