Details
Live Demo
If you are interested in Blog, why don't you take it for your collection. In terms of our blog, I will indicate for you the main reason for  this beloved Magento 2 Blog extension.
With LandofCoder best Magento 2 blog extension, you can engage and attract a large number of target audience. Unlike what Magento 2 blog extension free can bring you, our blog extension for Magento 2 comes with much more advanced features.
1. Discount Code
2. List of features
Multiple Beautiful Page Layouts
Touch Optimized Owl Carousel
Mobile & Tablet Optimized
Display Images or Video With Ease
Multiple Stunning Post Layouts
Multiple Color, Background color, Border color
Related Post Widget Supported
Easily Arrange Posts In Each Categories
Multiple Comment Types Supported
Showcase Tag Cloud Attractively
Easy To Show/hide Author Profile
Easily Add Nick Name, Avatar, Biographical Info
14+ Social Networks Integrated
Manage Related Post In Blink Of An Eye
Add Vote: like/dislike buttons
Import Blog From WordPress Live & Fast
3. Reasons to buy Magento 2 Blog Extension
The first reason is saving your money with 15 % discount. Besides, it is compatible with all of responsive. Â Moreover, you can use it with full devices, such as Tabs, smartphones. So you don't worried about this. Because our extension is always side your side.
By virtue of Supports link to related  blog is the second reason, the main purpose Magento 2 blog module is link to every page to share every page. So,it helps our relationship  as a circle. Your magento 2 blog page is not lonely.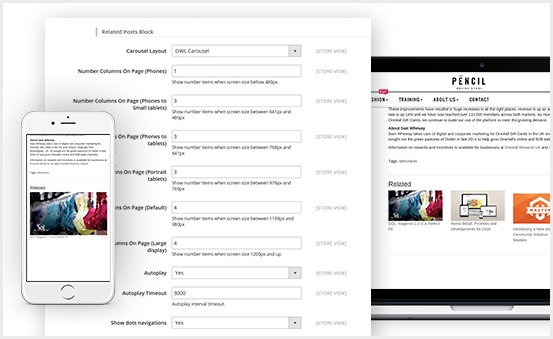 Also, the third reason is easy to customize video, image, and avatar with a lot of animation. It helps your site more attractive. And your site becomes personalize.
Furthermore, your site is support how to SEO your post. This tools is support you the standard SEO block. This index is very important for each web designer. Most of designers are headache  about it.  So after using this function, with less time for doing SEO, the ranks of your Blogpost increases significantly. So the result is faster.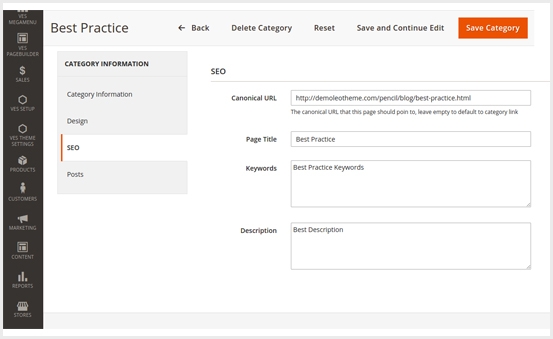 Finally, Magento 2 Blog extension comes with 3 layouts. You can free to design your blog post. Your post becomes more. It supports Grid, list, masonry. So it depends on your favorite. It is truly clear, logical and attractive.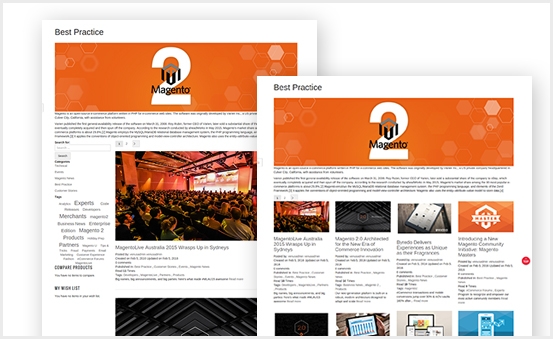 In addition, multiple Comment Types Supported is the third reason. Also, there are options for comment types including Default, Disqus, Facebook. With so many multiple comment types support, your customer will feel your service is the best. Thus, they will priority your site over the competitive site.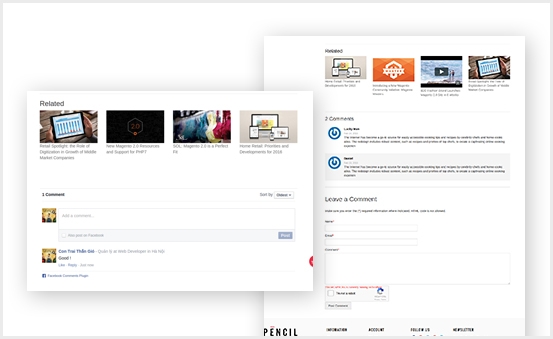 4. Detailed Features
Live Design Editor
The overall look and feel of your site should be consistent across all of your site's pages. You are seeking a website that can be easy to design anything as you want. Hence, we provide you design editor to help your customization process become easier than ever. With Magento 2 Create Blog, you can change color, background color, border color, layout as your expectation.
Multi-lingual Language and RTL Support
This outstanding function is really helpful to you wherever you are. Because it supports almost all the popular languages like English, German, French, etc. And it is also supported Hebrew, Persian, Arabic.., this Magento 2 Blog Integration will be the best choice for everyone without differences of nationalities, languages and cultures.
14+ Social Network Integrated
Magento 2 Blog Template integrated with the most popular social networks is easy to install, customize, and use, making it a great extension for people who want to integrate social media into their website. There are many Magento modules in Blog extension for social media sites such as Facebook, Twitter, LinkedIn, Yahoo, Google Plus, Pinterest, Instagram, and so on. This serves as an effective means to promote your website in a cost-efficient way. Google+, Twitter, Facebook, Digg, Dribbble, Flickr, Instagram, Linkedin, Pinterest, Reddit, Skype, Tumblr, Vimeo, Youtube.
[New] Support Google Rich Snipets Code
You are looking for the solution to show rich results on almost any SERP (search engine results page), displaying content like recipe information, star ratings for products and services, and much more. Our magento 2 blog extnesion support Google Rich Snipets Code; thus, you result will be seen in the best way.
[New] Fully Support REST API
Are you looking for REST API to allow other apps to connect with your data with ease? It is a good new that our magento 2 blog extension has been updated with REST API for both blog post and blog category
[New] Support Generate Sitemap
Are you looking for REST API to allow other apps to connect with your data with ease? It is a good new that our magento 2 blog extension has been updated with REST API for both blog post and blog category
In conclusion, our extension is more popular in Magento view and get more love from customers. And utilize this chance to save money for your blog passion in this discount. Surely, you are very surprised about this quality and modern trend.
5. Magento 2 Blog Extension | Video Tutorials
Magento 2 Blog Pro: How To Install Blog and Set Up Sample Data
Magento 2 Blog Extension Tutorials: How To Create Blog Post in Magento 2
Magento 2 Blog Module: How To Use Blog Widget
Magento 2 Blog Extension: How To Use Blog Widget
Magento 2 Blog Extension: How To Import Blog From WordPress